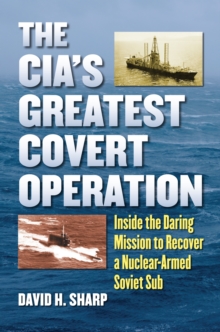 The CIA's Greatest Covert Operation : Inside the Daring Mission to Recover a Nuclear-Armed Soviet Sub
Paperback / softback
Description
March 1968: three miles below the stormy surface of the North Pacific, a Soviet submarine lay silent as a tomb-its crew dead, its payload of nuclear missiles, once directed toward strategic targets in Hawaii, inoperable.
No longer a real threat, the sub still presented an alluring target and it was not long before the CIA answered its siren call-even at the risk of igniting World War III.
Project AZORIAN-the monumentally audacious six-year mission to recover the sub and learn its secrets-has been celebrated within the CIA as its greatest covert operation and hailed by the American Society of Mechanical Engineers as the twentieth century's greatest marine engineering feat.
While previous accounts have offered beguiling glimpses, none have had significant access to CIA personnel or documents.
Now David Sharp, the mission's Director of Recovery Systems, draws upon his own recollections and personal records, ship's logs, declassified documents, and conversations with team members to shine a bright light on this remarkable but still little understood enterprise.
Sharp reveals how the CIA conceived, organised, and conducted AZORIAN, including recruiting the legendary Howard Hughes to provide the "ocean mining" cover story.
He takes readers onto and beneath the high seas to show the problems faced by the crew during the operation, including potential Soviet intervention and tense moments when the recovery ship itself was in danger of breaking up.
He also puts a human face on key players like Carl Duckett, the head of the CIA's Science and Technology Directorate; John Parangosky, AZORIAN's program manager; John Graham, designer of the Hughes Glomar Explorer; Curtis Crooke of Global Marine Development, co-creator of the "grunt lift" recovery concept; and Oscar "Ott" Schick, manager of the Lockheed-built capture vehicle and submersible barge.
Featuring dozens of previously classified photos, Sharp's chronicle of that amazing operation plunges readers deep into the darkest shadows of the Cold War to produce the definitive account of an amazing mission.
Information
Format: Paperback / softback
Pages: 344 pages, 59 photographs
Publisher: University Press of Kansas
Publication Date: 30/04/2012
Category: History of the Americas
ISBN: 9780700619412
Free Home Delivery
on all orders
Pick up orders
from local bookshops