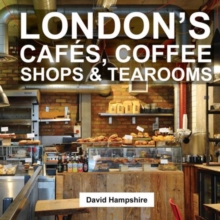 London's Cafes, Coffee Shops & Tearooms
Paperback / softback
Description
The number and variety of independent cafes in London hasflourished in recent years and if London never had a cafe culture a few decadesago, it certainly does now!
The quality and variety of food and drink on offer hasalso improved beyond recognition in the last few decades, with many cafes' nowserving food that's indistinguishable from a quality restaurant - except when it come tothe bill - which is invariably much lower.
In fact if you want to eat a greatlunch (and increasingly dinner too) in London and don't want to pay a fortune,a cafe is your best bet.
Coffee sales in Britain have expanded rapidly in the lastdecade, along with the growing number of independent (and chain) coffee shops.
Britain'slove affair with the bean has gone, quite literally, from strength to strength;not so many years ago it was difficult to find a cafe serving anything butinsipid filter coffee, but now fresh bean-powered brews are everywhere, thanksin huge part to a legion of expat baristas and roasters from Down Under. The British are famous for their love of a good cuppa(tea) - which, as every Brit knows, cures all ills - although nowadays it's justas likely to be a delicate white, energising green, aromatic and complexOolong, or a mysterious aged Puer, as builder's brew.
London has an abundanceof specialist tearooms - many with expert 'tearistas' (tea baristas) on hand toadvise you - where you can enjoy fine teas in a delightful traditional setting.
Tea is also a vital component of the quintessentially Englishdiversion of afternoon tea, with London's premier hotels - plus manyrestaurants, cafes and tearooms - vying to produce the most lavish and originalafternoon tea, consisting of exquisite teas and divine cakes, pastries andsavouries - and optional champagne.
If there's one meal that the British can claim their own,it's the great British cooked breakfast, which is world-famous.
Thistraditionally takes the form a huge fry-up - the full English - but nowadaysit's just as likely to include a wealth of tasty and original dishes withinfluences from around the globe.
Likewise brunch - a combination of breakfastand lunch - which Londoners have taken to with a passion in recent years.Nowadays many top restaurants, hotels and cafes specialise in brunch,particularly at weekends. With a copy of London'sCafes, Coffee Shops & Tearooms - featuring over 250 venues - you'llnever be lost for somewhere to enjoy a great cup of coffee or tea and somedelicious food.
We hope you enjoy discovering the city's burgeoning cafeculture as much as we did.
Information
Format: Paperback / softback
Pages: 192 pages, 250 colour illustrations
Publisher: City Books
Publication Date: 21/04/2016
Category: Restaurant, cafe & pub guides
ISBN: 9781909282803
Free Home Delivery
on all orders
Pick up orders
from local bookshops