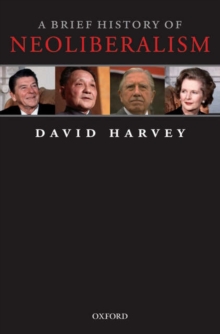 A Brief History of Neoliberalism
Paperback
Description
Neoliberalism - the doctrine that market exchange is an ethic in itself, capable of acting as a guide for all human action - has become dominant in both thought and practice throughout much of the world since 1970 or so.
Its spread has depended upon a reconstitution of state powers such that privatization, finance, and market processes are emphasized.
State interventions in the economy are minimized, while the obligations of the state to provide for the welfare of its citizens are diminished.
David Harvey, author of 'The New Imperialism' and 'The Condition of Postmodernity', here tells the political-economic story of where neoliberalization came from and how it proliferated on the world stage.
While Thatcher and Reagan are often cited as primary authors of this neoliberal turn, Harvey shows how a complex of forces, from Chile to China and from New York City to Mexico City, have also played their part.
In addition he explores the continuities and contrasts between neoliberalism of the Clinton sort and the recent turn towards neoconservative imperialism of George W.
Bush. Finally, through critical engagement with this history, Harvey constructs a framework not only for analyzing the political and economic dangers that now surround us, but also for assessing the prospects for the more socially just alternatives being advocated by many oppositional movements.
Information
Format: Paperback
Pages: 256 pages, numerous graphs, 3 line drawings, 5 maps and 2 tables
Publisher: Oxford University Press
Publication Date: 16/11/2006
Category: Ethical issues & debates
ISBN: 9780199283279
Other Formats
EPUB from £8.50
PDF from £8.50
Free Home Delivery
on all orders
Pick up orders
from local bookshops
Reviews
Showing 1 - 2 of 2 reviews.
Review by mortensengarth
16/06/2015
i have never understood so well how neoliberalism, neoconservatism, liberalism, conservatism diverge. this book didnt clear that up. however, neoliberalism has been painted as a vehicle for which class discrepencies have exploded, the international governing systems have been founded and how distributed gdp growth bemoans this setup. relate to karl polanyi and the follow up book Great Transformations. also relate to Phillip Bobbit's The Shield of Achilies. a recommendation from my economics advisor.
Review by kant1066
16/06/2015
David Harvey, whose professional background as a geographer has slowly led him astray into the fields of economics and cultural criticism, has written a interesting, if dense, intellectual history of neoliberalism, in both theory and practice. While not nearly as consequential as some of his other work (especially "The Condition of Postmodernity" and "The Limits to Capital"), it is nevertheless a highly compelling, critical account of the prevailing economic ideology of our time. As someone with a much greater interest in the theoretical side of matters than the pragmatics, I was somewhat disappointed that Harvey spent a lot of time discussing what neoliberal policies have perpetrated in various countries (Chile, China, the United States, and Sweden) as opposed to focusing on its formation and instantiation about a generation ago. The theory, for the most part, is discussed only in the first two chapters, while the rest of the book is dedicated its various effects.According to Harvey, after the end of World War II, the social democracies of Western Europe were dominated by what he calls "embedded liberalism," an amalgam of "state, market, and democratic institutions to guarantee peace, inclusion, well-being, and stability," and which was marked by the regulation of free trade and the belief that full employment and the social welfare of the citizenry were at the heart of a healthy economy." The postwar economies that operated under embedded liberalism saw gradual growth and prosperity throughout the 1950s and 1960s, but eventually began to falter under a new set of emergent economic ideas.During the late 1970s and early 1980s in China, England, and the United States, the shift away from policy finally began to catch up to the growing disenchantment among elites with embedded liberalism. The markers on the way to a final transition were obvious: in 1973, a U.S.-led coup in Chile in which we provided the economic minds to completely deregulate Allende's social-democratic system and install a fascist who respected no boundary between the state and the corporation; in 1979, a total restructuring of U.S. monetary policy under the direction of Paul Volcker (who still rears his head in policy-making decisions three decades later); and soon afterward the elections of Margaret Thatcher and Ronald Reagan. The changes, too, were just as apparent: the increasing amounts of deregulation in private enterprise, the investment of capital in foreign economies, and the promotion of a regressive tax structure in which the super-rich pay the same percentage in taxes as the poor.Harvey explicitly makes two arguments about the pervasive growth of neoliberalism: 1) some of the ways in which it is practiced making it a veritable contradiction in terms, and 2) neoliberalism has successfully rebuilt and sustained a lasting class differential and formation of capitalist class power which the working poor and middle classes have to continually fund. First, while one of the main tenets of the neoliberalism is to keep state interference in the economy to an absolute minimum, it turns out that the state conveniently intervenes when it is in the best interest of economic elites who run the system (see Paul Bremer's opening up of the Iraqi economy and banking system to foreign investment and business, as well as the aforementioned United States intervention in Chile). Secondly, the idea of continued and increased economic growth is a shibboleth. Aggregate growth rates after the inception of neoliberalism - which declined from 3.5% in the 1960s to a current approximate 1% after 2000 - show it to be less and less a set of economic policies which actually produce wealth in an egalitarian manner. While a formation of an ultra-rich capitalist class would have been unheard of in socialist China or Russia forty years ago, the vastly uneven distributions of wealth have allowed for exactly that.One of the most interesting parts of the book is when Harvey discussed neoliberalism is when he talks about how the concept of "freedom" is deployed to rhetorically shore it up. Whenever you hear neoliberal policies discussed by politicians, you always hear about how open markets create more "freedom," which Harvey does not admit is true, at least in a sense. What he does emphasize is that it excludes other notions of freedom, such as access to a wide array of social services, the ability to collectively negotiate for wages, and appropriate working conditions.This comes highly recommended for anyone interested in left-wing politics, criticism of the economic policies of international institutions (especially the International Monetary Fund and World Bank), and an answer to laissez-faire capitalism broadly speaking.