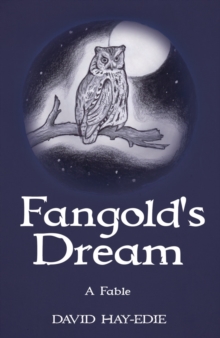 Fangold's Dream : A Fable
Paperback / softback
Description
What do our dreams tell us? What if an animal talks to us in our sleep? Fangold meets a bird in his dreams. The bird represents his alter ego or spirit, acting as his guide.
It shows him history from a higher perspective, starting with the early Earth and ending with our current predicament.
Alongside the development of art, music, religion and science Fangold is shown the parallel emergence of violence, fear of demons, greed and other ills.
The bird's form changes continually from one species to another - blackbird, stork, eagle - but being a fable the bird points out a moral throughout.
It is up to Fangold to discern it. In Fangold's final journey, he and the bird make a last flight together.
Will he realise that he and the bird are truly one, as they have always been? And when the bird takes him beyond the Earth to a higher realm from which he came, will he be able to return there with joy?
Fangold's Dream explores how we are connected to the world around us, taking a bird's eye view of ourselves and of human history.
Birds have often been seen as messengers; they fly above us, looking down on us.
The book is a fantasy, but it is also a search for the reality of being human.
Fangold can be seen as the 'Everyman' in this story, which will appeal to fans of fantasy fiction, such as Philip Pullman's 'His Dark Materials' trilogy.
Information
Format: Paperback / softback
Pages: 64 pages
Publisher: Troubador Publishing
Publication Date: 28/01/2015
Category: Fantasy
ISBN: 9781784621025
Free Home Delivery
on all orders
Pick up orders
from local bookshops