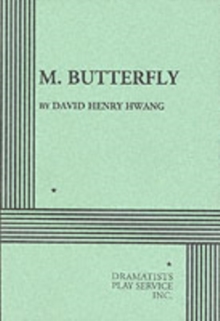 Information
Format: Paperback
Pages: 93 pages
Publisher: Josef Weinberger Plays
Publication Date: 01/06/1995
Category: Plays, playscripts
ISBN: 9780822207122
Free Home Delivery
on all orders
Pick up orders
from local bookshops
Reviews
Showing 1 - 4 of 4 reviews.
Review by followthenightlight
16/06/2015
This is one of my favorite plays, though I have never seen it performed.
Review by JosephJ
16/06/2015
Brilliant play. Blah movie. But both are worth getting into. The story is compelling and brings up a number of good points about the faults of Western, white male-dominated culture. Post-colonialism at its best and awfully funny dialogue.
Review by Ceilidhann
16/06/2015
White male privilege will fuck you up!<br/><br/>There are a couple awkward lines and sometimes it feels like Hwang is being far too obvious with the themes of the play, not letting the audience work them out for themselves, but overall, M Butterfly is a fascinating study of racial and gender stereotypes in an East vs West battle of sorts. It's also an interesting puzzle to work out, with both leads providing their subjective view-points of events, distorting the truth to show the fantasies they had created. It openly embraces its theatricality, which is one of the reasons the movie is so disappointing in my opinion; it focused too much on realism which made it feel so awkward. The incorporation of the actual opera Madame Butterfly into the play provides an interesting mirror to the characters's situation, although the parallels do veer dangerously close to melodrama in one or two scenes. Obviously, the premise is one that may require a real suspense of disbelief for some - although it is based on a true story - but that feels natural to the play itself. Rene has spent so long building up his perfect fantasy, living out Madame Butterfly with his own apparently submissive beautiful Chinese woman, and he's desperate to hold onto it, even in the face of destruction. It's a play that would require a strong director and actors to match. Highly recommended.
Review by CareBear36
16/06/2015
I really enjoyed this play. My friend recommended it to me, saying, "It's about this gay guy..." Since this wasn't a very detailed description, I wasn't sure what to expect, but once I started reading it, I couldn't put it down. I literally could not stop until I got to the end and once I did I just wanted to start all over again. This is an amazing play. In actuality it's not about a gay guy at all, but my disappointed induced by this realization didn't last long considering what a fantastic read the actual story was. The plot is great, the language is great, and I would definitely recommend this book.