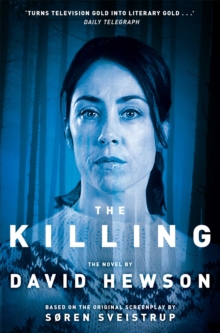 Description
'Through the dark wood where the dead trees give no shelter Nanna Birk Larsen runs ...There is a bright monocular eye that follows, like a hunter after a wounded deer.
It moves in a slow approaching zigzag, marching through the Pineseskoven wasteland, through the Pentecost Forest. The chill water, the fear, his presence not so far away ...There is one torchlight on her now, the single blazing eye. And it is here ...' Sarah Lund is looking forward to her last day as a detective with the Copenhagen police department before moving to Sweden.
But everything changes when nineteen-year-old student, Nanna Birk Larsen, is found raped and brutally murdered in the woods outside the city.
Lund's plans to relocate are put on hold as she leads the investigation along with fellow detective Jan Meyer.
While Nanna's family struggles to cope with their loss, local politician, Troels Hartmann, is in the middle of an election campaign to become the new mayor of Copenhagen.
When links between City Hall and the murder suddenly come to light , the case takes an entirely different turn. Over the course of twenty days, suspect upon suspect emerges as violence and political intrigue cast their shadows over the hunt for the killer.
Information
Format: Paperback
Pages: 720 pages
Publisher: Pan Macmillan
Publication Date: 08/11/2012
Category: Crime & mystery
ISBN: 9781447208419
Free Home Delivery
on all orders
Pick up orders
from local bookshops
Reviews
Showing 1 - 2 of 2 reviews.
Review by Eyejaybee
16/06/2015
I don't watch much television but even I have heard of the Danish TV series "The Killing", and am yet to hear a bad word spoken about it. Consequently hen i saw this book at my local Oxfam shop i thought it might be worth reading . They certainly sold me the dummy there!I did try to read this. Honestly! Somehow I just couldn't find the strength of soul to carry on. Three hundred pages in and I still hadn't found even one character for whom I felt any empathy. Apparently it was originally written in English though that was far from evident from the prose style. It seemed to me more like something that had been written in German and then translated by someone who didn't have German-English dictionary but was, instead using a German-French one and then a French-Russian one before finally finding a Russian-English lexicon to finish it off.The feeling of liberation after I deliberately left this book on the bus was enlivening. Now I can look for a proper book.
Review by tbrennan1
27/08/2015
This novel is as exciting as the television series ,on which it is based. A page-turner with a contrary heroine in Sarah Lund ,which exposes the soft underbelly of Danish society. David Hewson has written a gripping novel ,which tracks a horrific crime over a period of twenty days.