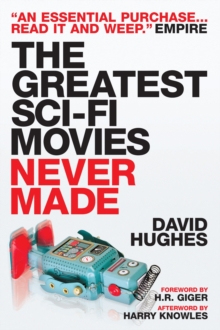 Greatest Sci-Fi Movies Never Made
Paperback
Description
Steven Spielberg's "Night Skies", Stanley Kubrick's "Childhood's End", Philip Kaufman's "Star Trek: Planet of the Titans", Kevin Smith's "Six Million Dollar Man", Tim Burton's "Superman Lives", James Cameron's "Alien 5"...These are just some of the legendary unmade films covered in this groundbreaking book.
This fully updated edition also reveals the fascinating details of the movies that nearly were: what would James Cameron's version of "Spider-Man", or Terry Gilliam's "Watchmen" have been like?
How close did Ridley Scott come to directing "I Am Legend" starring Arnold Schwarzenegger, and why was Nicolas Cage paid $20 million for not playing Superman?
Information
Format: Paperback
Pages: 320 pages, 8pp colour halftones, b&w illustrations
Publisher: Titan Books Ltd
Publication Date: 15/07/2008
ISBN: 9781845767556
Free Home Delivery
on all orders
Pick up orders
from local bookshops
Reviews
Showing 1 - 5 of 5 reviews.
Review by jclark88
16/06/2015
In Hollywood there are always dozens and dozens of film projects that are in various stages of development. Some of those projects eventually make it to the screen while others, for various reasons, languish in development hell for untold ages. This book is their story. I was completely jazzed to get an early copy of an updated edition of David Hughes' fantastic book, The Greatest Sci-Fi Movies Never Made. As a lifelong film fan and a student of film I have heard countless stories of the movies that never were. Almost every year another movie that I first heard about ages ago finally makes it to the big screen. I can't count how many times over the years I've been disappointed by news out of Hollywood. I remember distinctly the first time I heard about I Am Legend being in the works with Arnold Schwarzenegger attached to star. This was back when Arnold was still a force and the concept sounded incredibly exciting. As the years went by it became obvious that Arnold would never make the movie. Little did I know that it would eventually become a star vehicle for Will Smith (and a huge hit to boot). This is the kind of story David Hughes has crafted in his incredibly addictive book. Every chapter is the story of a film that hasn't made it to the screen yet or hasn't made it to the screen in the manner in which it was originally conceived. Chock full of juicy tidbits of information, every single chapter in this book could be a book on its own. Some of the stories are classic tales of Hollywood lore that most of us have heard at one time or another while many more contain behind the scenes stories and information that most of us would never heard.I was especially entertained by Chapter 3 which tells of the different Star Treks that were, and, even better, the Star Treks that never came to be. The book itself was first written in 2001, but this latest version is updated with all new and very relevant information. The author removed information about movies that have been made since he first wrote the book and rewrote much of the remaining information. He includes all the latest news even including information on J.J. Abrams' Star Trek reboot and James Cameron's Avatar (among others). I found the book to be incredibly easy to read. Many of the chapters are short enough to read in a single sitting so I found myself trying to squeeze a chapter in whenever I had a few extra minutes. I read some of it during the commercial breaks while I was watching TV (although I soon found myself more interested in the book than the TV). It would be a perfect book to keep beside the bed (or in the bathroom?). I enjoyed some chapters more than others. I'm not a big comic book fan so I wasn't as interested in the stories of The Silver Surfer or The Fantastic Four, but I did really enjoy the chapter on Watchmen. The movies discussed in the book are basically science fiction, of course, so I'd say a love of sci-fi movies might be a reasonable prerequisite. However, I think anyone who loves movies will love this book. I highly recommend it.
Review by figre
16/06/2015
If there was any doubt in your mind that making movies is an ugly proposition, if there was any doubt that egos drive movies more than talent, if there was any doubt that movies by committee lead to disaster, if there was any doubt that producers and directors and (sad to say) writers inject themselves in a detrimental way, if there was any doubt that writers are held in absolutely no esteem, if there was any doubt…well, if there was any doubt that, in far too many instances, the final movie you see pales in comparison to what might have been, then this book will quell those doubts.In scenario after scenario, Hughes outlines what went right and (far more often) wrong in the development of science fiction movies throughout history. Some are movies that never made it to the screen (Clarke's Childhood's End, Burroughs's John Carter of Mars, The Bionic Man, and a complete unknown – The Tourist). Others are movies that, in their final incarnations, should not have made it (Dune, The Hitchhiker's Guide to the Galaxy, Thunderbirds, and The Island of Dr. Moreau). And others are ones that may have hit or may have missed, but their journeys are fascinating (Watchmen, The Fantastic Four, Superman, and all the Star Trek movies).After a while, the stories start to get redundant as Hughes explores rewrite after rewrite, and crushed dream after crushed dream. Yet it is all intriguing – the names that surface, the tales that die, and, to repeat it, the things that might have been. So read this if you want a taste of how bad Hollywood can be. And read it if you love alternate universes (Tim Burton's Superman?) Just read it knowing that you will be entertained and depressed.
Review by mmyoung
16/06/2015
Not only an enjoyable read this book gives the reader insight as to how and why movies are made and not made.
Review by TheCrow2
16/06/2015
A few years ago I've read a SF short story about a shop where you can rent strange movies. Movies somehow familiar but like from a parallel universe. Hughes' book is about these movies. Science fiction that could have been great..... Imagine Clarke's Childhood's End directed by Stanley Kubrick or Superman Lives by Tim Burton. A bit depressing but interesting tales about the development hell where not always the quality decides....
Review by andy475uk
16/06/2015
A fascinating book which charts the non-development of several sci-fi movies which either never got made or eventually got made but not with the original actors, writers or directors involved. An insightful look at the developmental process and a great view of how and why Hollywood fails to bring quality films out regularly from sci-fi properties. As William Goldman so eloquently put it when discussing the movie business - "Nobody Knows Anything"....