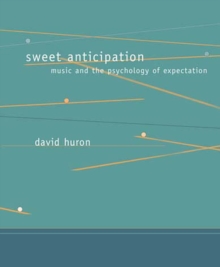 Sweet Anticipation : Music and the Psychology of Expectation
Paperback
Description
The psychological theory of expectation that David Huron proposes in Sweet Anticipation grew out of the author's experimental efforts to understand how music evokes emotions.
These efforts evolved into a general theory of expectation that will prove informative to readers interested in cognitive science and evolutionary psychology as well as those interested in music.
The book describes a set of psychological mechanisms and illustrates how these mechanisms work in the case of music.
All examples of notated music can be heard on the Web.Huron proposes that emotions evoked by expectation involve five functionally distinct response systems: reaction responses (which engage defensive reflexes); tension responses (where uncertainty leads to stress); prediction responses (which reward accurate prediction); imagination responses (which facilitate deferred gratification); and appraisal responses (which occur after conscious thought is engaged).
For real-world events, these five response systems typically produce a complex mixture of feelings.
The book identifies some of the aesthetic possibilities afforded by expectation, and shows how common musical devices (such as syncopation, cadence, meter, tonality, and climax) exploit the psychological opportunities.
The theory also provides new insights into the physiological psychology of awe, laughter, and spine-tingling chills.
Huron traces the psychology of expectations from the patterns of the physical/cultural world through imperfectly learned heuristics used to predict that world to the phenomenal qualia we experienced as we apprehend the world.
Information
Format: Paperback
Pages: 480 pages, 108 illus.
Publisher: MIT Press Ltd
Publication Date: 25/01/2008
Category: Theory of music & musicology
ISBN: 9780262582780
Free Home Delivery
on all orders
Pick up orders
from local bookshops
Reviews
Showing 1 - 1 of 1 reviews.
Review by ztutz
16/06/2015
Sweet Anticipation should be required reading for all composers and musicologists. The book plausibly explains how and why music affects human emotions, and it also contains numerous practical factoids that can be used to gauge one's own works against the spectrum of human musical perception. Huron uses statistical analysis and a deep knowledge of recent experimental progress in the psychology of musical perception to paint a picture that goes far beyond often banal music theory. His theories apply to all existing musical traditions, which to me is one of the most interesting aspects of the book, since most music theorists are pathetically myopic when it comes to assessing music as a universal human phenomenon.This is certainly the best music theory book that I've read in many, many, years. It takes many things that performing musicians intuitively know to be true, and puts them into a more rigorous experimental context than musicians normally use. This being said, the book is probably not that accessible to anyone who does not yet have an undergrad level grasp of classical music theory - if you don't know what a ii-V-I progression is, or you can't see the shape of a melody by looking at an printed musical example, you probably won't get much out of it.Highly recommended!