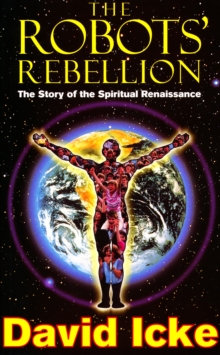 The Robots' Rebellion : The Story of the Spiritual Renaissance
Paperback
Description
We live in a world which is increasingly dominated by revolutionary new technology but, according to author and lecturer, David Icke, it is WE who are the robots.
In his strongest book to date, Icke reveals the alarming extent to which people of all nations have allowed themselves to be programmed by the ideas fed to them by those in power.
Fearlessly, he tears down the veils of hypocrisy, built up for generations by the corrupt forces of Church, State, science and commerce - and reveals the true pathos of the human condition beneath.
He points, too, to the frightening influence wielded throughout the planet by a merciless and manipulative network of secret societies.
The existence of long-established links between Earth-bound humanity and beings from other dimensions and planets in the Universe has been suppressed for years, says Icke, by the world's power-broking hierarchy.
When ordinary people learn the real role they have to play within a rich and varied cosmic society, rebellion against those who have kept this extraordinary truth from them will, he predicts, be inevitable. Hidebound politicians, bankers, economists, educationalists, scientists and the leaders of the world's established religions are not going to welcome Icke's challenging book.
But it is not intended for those who wield and abuse power.
This book is for the world's unwilling robots who, says Icke, in an upbeat conclusion, have it within themselves to rise up - and take control of their own exciting destiny.
Other books by David Icke Heal the World Truth Vibrations.
Free Home Delivery
on all orders
Pick up orders
from local bookshops
Reviews
Showing 1 - 1 of 1 reviews.
Review by wyvernfriend
16/06/2015
The 3 stars is more because it was compelling to read for a conspiracy theory fan like me. It's definitely not for how believable I found it. I also get how he got condemned for using the discredited Protocols of Zion, (for which he doesn't blame Jewish people but the shadowy Brotherhood who control the world, where goyim is a word for those who do not belong, rather like the way knitters sometimes use muggles to refer to non-knitters)Yes, there is a core of interesting ideas about how we're unthinkingly walking into a world of being controled by the 1%, where we look to today and not to tomorrow and the damage being done. Where Walmart employees have to rely on handouts to survive instead of having a living wage. Yes these things are not good, but I don't think there's an alien race imposing this on humanity, I think we need to take ownership of the situation and actually do something about it rather than trying to blame someone else.Yes, there is probably propaganda and people who work at keeping people accepting of the status quo, and there are always going to be people who want others to make their decisions for them, whether that's through religion, science or whatever but there are also a lot of frustrated people who are too tired to make changes.Made me angry where it needs citations, he makes claims or uses the phrase "I believe..." and doesn't offer expliantions, he's saying throughout that you should questions received wisdom but then saying that you should trust him. I really did want a "citation needed" stamp throughout. He also has a bibliography that doesn't reflect the book, text that appear in your work should be in the bibliography, otherwise it's "extra reading" or "recommended further reading" or "recommended reads". In many instances there are quotes from people that lack sources which is just not good enough. He also talks about religion as being wrong and evil but fails to see the people within many of those religions who have strived for good.Interesting, wrongheaded, with some food for thought and eyerolling moment as well.