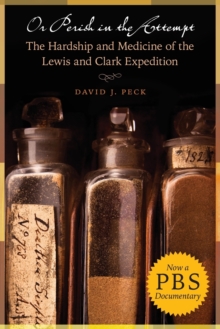 Or Perish in the Attempt : The Hardship and Medicine of the Lewis and Clark Expedition
Paperback / softback
Description
David J. Peck's Or Perish in the Attempt ingeniously combines the remarkable adventures of Lewis and Clark with an examination of the health problems their expedition faced.
Formidable problems indeed, but the author patiently, expertly-and humorously-guides us through the medical travails of the famous journey, juxtaposing treatment then against remedy now.
The result is a fascinating book that sheds new light not only on Lewis and Clark and the men and one remarkable woman (and her infant) who accompanied them along an eight-thousand-mile wilderness path but also on the practice of medicine in their time and place.
Information
Format: Paperback / softback
Pages: 360 pages, 40 illustrations, 1 map, 2 appendixes
Publisher: University of Nebraska Press
Publication Date: 01/06/2011
Category: History of medicine
ISBN: 9780803235113