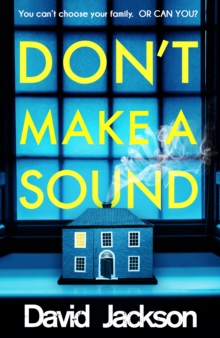 Don't Make a Sound : The darkest, most gripping thriller you will read this year
Paperback
Description
You can't choose your family. Or can you? Meet the Bensons. They're an ordinary couple. They wash their car, mow their lawn and pass the time of day with their neighbours. And they have a beautiful little girl called Daisy. There's just one problem. SHE'S NOT THEIRS. D. S. Nathan Cody is about to face his darkest and most terrifying case yet . . . 'A MIND-BLOWING, HEAD-RATTLING, whirlwind of a thriller.
David Jackson is the king of 'just-one-more-chapter'.
I bloody LOVED it' Joanna Cannon, Sunday Times bestselling author'Jackson writes with a quiet menace that makes this book INCREDIBLY CHILLING.
As soon as I started reading I couldn't stop. Surely a contender for THRILLER OF THE YEAR' Fiona Cummins, bestselling author of Rattle'OMG what a brilliant read!
Hardly breathed the whole way through! LOVED this book!' Samantha Hayes, bestselling author of The Reunion'One of the most DISTURBING, FRIGHTENING crime novels I've read in a long time' Martyn Waites'OMG this book!
Don't Make a Sound started off creepy then became so tense that I barely breathed from the middle to the end' Susi Holliday'Bloody creepy and absolutely gripping.
Another hit from a chap who really knows how to fill his inkwell with our deepest fears' David Mark'I haven't read a book in one sitting in a long time but Don't Make a Sound REDEFINES GRIPPING. And that twist at the end! Bravo!' Chris Whitaker, award-winning author of TALL OAKS'Excellent - possibly the best in the series so far.
Such a page-turner' G. J. Minett'A parent's nightmare. A cop's worst fear. Jackson doesn't mince his words when it comes to dark and disturbing' Mel Sherratt'One of my favourite thriller writers, always classy, always clever and brilliantly crafted.
Don't Make a Sound is faultless, a beautifully wrought thriller that had the kid in me cowering beneath the bed covers.
One of the best thrillers of my year' CJ Carver'Disturbing subject matter, expertly handled & well executed.
If you like your tension drip-fed, this one's for you' Mari Hannah
Information
Format: Paperback
Pages: 352 pages
Publisher: Zaffre Publishing
Publication Date: 03/05/2018
ISBN: 9781785763960
Free Home Delivery
on all orders
Pick up orders
from local bookshops