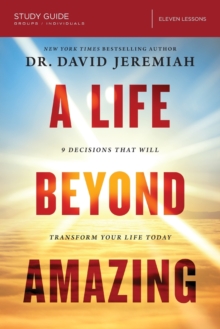 A Life Beyond Amazing Study Guide : 9 Decisions That Will Transform Your Life Today
Paperback / softback
Description
Why were people in the first century so drawn to Jesus of Nazareth?
His powerful miracles and challenging teachings, for sure.
But it was also His character. Humanity had never witnessed someone who is loving, joyful, peaceful, patient, compassionate, generous, faithful, humble, and self-controlled all the time.
It was as if God Himself had become a human being to demonstrate the life that is possible-a life beyond amazing. The traits that Jesus demonstrated in His life were traits empowered by the Spirit of God who filled Him.
When Jesus returned to heaven, He sent His Spirit to indwell all His true followers so they could display the same character in their lives-not for their benefit alone but to show the world the kind of life God intended us to enjoy.
The apostle Paul called these traits "the fruit of the Spirit" (Galatians 5:22-23). In this A Life Beyond Amazing Study Guide, Dr. David Jeremiah describes the divinely empowered life that is possible for followers of Christ.
Between introductory and concluding messages, Dr. Jeremiah explores each of the nine traits of a Spirit-filled life as outlined by the apostle Paul-traits that produce a life beyond amazing.
Each lesson also includes:An outline of the main subjects and Scriptures covered during the lessonAn overview of Dr. Jeremiah's teaching on the topic being studiedApplication questions to help individuals and small groups delve into the BibleA Did You Know? section that adds a point of interest to the lesson
Information
Format: Paperback / softback
Pages: 128 pages
Publisher: Thomas Nelson Publishers
Publication Date: 08/02/2018
ISBN: 9780310091172
Free Home Delivery
on all orders
Pick up orders
from local bookshops