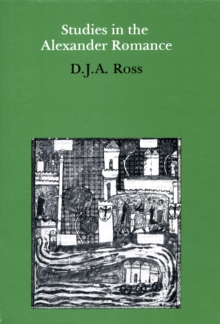 Studies in the Alexander Romance
Hardback
Description
The Alexander Romance, a fabulous pseudo-history of the life of Alexander the Great compiled in late Antiquity, was one of the most popular secular texts in Europe during the Middle Ages.
Its subsequent influence on the development of French and German literature has been significant. Professor Ross was a leading authority on the history and transmission of the Latin and French versions of the Romance, and his work has done much to clarify the spread of the Alexander legend in medieval European literature.
This volume brings together all of David Ross's papers on the Alexander Romance, dealing separately with the Latin versions and their French and German reworkings.
These include the first publication of a number of original texts in Latin and in German.
There is also a valuable section on the development of the accompanying picture-cycle to the Romance, which derives from late-antique sources.
Information
Format: Hardback
Pages: 428 pages, 51 illus.
Publisher: Pindar Press
Publication Date: 31/12/1985
ISBN: 9780907132264