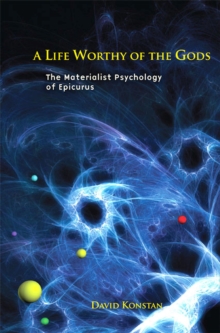 A Life Worthy of the Gods : The Materialist Psychology of Epicurus
Paperback / softback
Description
Epicurus, and his Roman disciple Lucretius, held that the primary cause of human unhappiness was an irrational fear of death.
What is more, they believed that a clear understanding of the nature of the world would help to eliminate this fear; for if we recognize that the universe and everything in it is made up of atoms and empty space, we will see that the soul cannot possibly survive the extinction of the body-and no harm to us can occur after we die.
This liberating insight is at the core of Epicurean therapy.
In this book, Konstan seeks to show how such fears arose, according to the Epicureans, and why they persist even in modern societies.
It offers a close examination of the basic principles of Epicurean psychology: showing how a system based on a materialistic world view could provide a coherent account of irrational anxieties and desires, and provide a therapy that would allow human beings to enjoy life to the fullest degree.