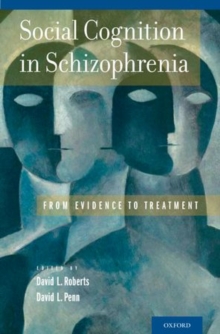 Social Cognition in Schizophrenia : From Evidence to Treatment
Hardback
Description
Individuals with schizophrenia and related disorders experience significant functioning deficits in the community.
The study of social cognition in schizophrenia has grown rapidly over the past decade, and a consensus has developed among researchers that dysfunction in social cognition may contribute to the severe interpersonal problems that are a hallmark of schizophrenia.
This has generated hope that treatments which improve social cognition in this illness mayenhance an individual's ability to live a socially engaged and rewarding life.
Social Cognition in Schizophrenia: From Evidence to Treatment provides a firm grounding in the theory and research of normal social cognition, builds on this base to describe how social cognition appears to be dysfunctional in schizophrenia, and explains how this dysfunction might be ameliorated.
Composed of contributed chapters written by the top experts in the field, the volume is divided into three parts to address each of these areas.
Part I, Foundations of Human SocialCognition, explores normal social cognition in childhood development, adulthood, and across cultures, as well the brain-bases of social cognition and clinical social cognition research.
Part II, Social Cognition in Schizophrenia: Descriptive and Experimental Research, discusses social cognition and functional outcome,emotion processing, Theory of Mind, paranoid ideation, social cognition in early psychosis, and the social cognitive neuroscience of schizophrenia.
Part III, Social Cognition in Schizophrenia: Treatment Approaches, focuses on findings from current treatment outcome research as well as several leading social cognitive intervention approaches-Integrated Neurocognitive Therapy (INT), Cognitive Enhancement Therapy (CET), Metacognitive Training (MCT), and Social Cognition and InteractionTraining (SCIT).
This comprehensive, accessible volume will be invaluable to researchers studying social cognition and psychosocial treatment development in schizophrenia, clinicians working with this patient population, students in social and clinical psychology, nursing, social work and occupational therapy,and medical students.
Information
Format: Hardback
Pages: 448 pages
Publisher: Oxford University Press Inc
Publication Date: 31/01/2013
Category: Psychiatry
ISBN: 9780199777587
Free Home Delivery
on all orders
Pick up orders
from local bookshops