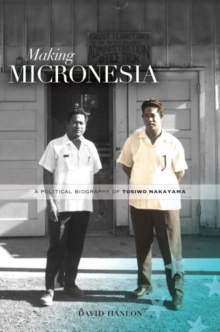 Making Micronesia : A Political Biography of Tosiwo Nakayama
Paperback / softback
Description
Making Micronesia is the story of Tosiwo Nakayama, the first president of the Federated States of Micronesia (FSM).
Born to a Japanese father and an island woman in 1931 on an atoll northwest of the main Chuuk Lagoon group, Nakayama grew up during Japan's colonial administration of greater Micronesia and later proved adept at adjusting to life in post-war Chuuk and under the American-administered Trust Territory of the Pacific Islands.
After studying at the University of Hawai`i, Nakayama returned to Chuuk in 1958 and quickly advanced through a series of administrative positions before winning election to the House of Delegates (later Senate) of the Congress of Micronesia.
He served as its president from 1965 to1967 and again from 1973 to 1978.
More than any other individual, Nakayama is credited with managing the complex political discussions on Saipan in 1975 that resulted in a national constitution for the different Micronesian states that made up the Trust Territory.
A proponent of independence, he was a key player in the lengthy negotiations with the U.S. government and throughout the islands that culminated in the Compact of Free Association and the eventual creation of the FSM.
In 1979 Nakayama was elected the first president of the FSM and spent the next eight years working to solidify an island nation and to see the Compact of Free Association through to approval and implementation.
One wonders what the contemporary political configuration of the western Pacific would look like without Tosiwo Nakayama.
His story, however, involves much more than a narrative of political events.
Nakayama's rise to prominence constitutes a remarkable story given the physical, political, and cultural distances he negotiated.
His engagements with colonialism, decolonization, and nation-making place him squarely in the middle of the most important issues in twentieth-century Pacific Islands history.
The study of his life also invites a reconsideration of migration, transnational crossings, and the actual size of island worlds.
Making Micronesia follows Nakayama's life through time, focusing on the expansiveness of his vision.
In many ways, "Macronesia," not "Micronesia," seems a more appropriate term for the world he inhabited and tried to make accessible to others.
Information
Format: Paperback / softback
Pages: 328 pages, 27 illustrations
Publisher: University of Hawai'i Press
Publication Date: 28/02/2018
ISBN: 9780824875169
Free Home Delivery
on all orders
Pick up orders
from local bookshops