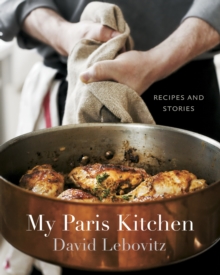 My Paris Kitchen
Hardback
Information
Format: Hardback
Pages: 352 pages
Publisher: Random House USA Inc
Publication Date: 08/04/2014
Category: National & regional cuisine
ISBN: 9781607742678
Free Home Delivery
on all orders
Pick up orders
from local bookshops
Reviews
Showing 1 - 3 of 3 reviews.
Review by Lakenvelder
16/06/2015
At first a book about an American pastry chef that leaves the Bay area for the Paris with his cast iron skillet and cookbooks might seem stodgy and ordinary. This book took French cooking to a new level and is the prefect book to sit down in a comfy chair to devour the stories with chuckles and intrigue while being entertained with great stories, information and recipes. This book would make a very fine addition to anyone's cookbook collection.
Review by Dokfintong
16/06/2015
David Lebovitz is an American in Paris. Not the novelist or jazz musician of days past, soaking up booze in dim bars, Mr. Lebovitz is a chef, cookbook author and food blogger, soaking up the smells and tastes of the new, multi-cultural Paris.This book celebrates the changes in the Parisian approach to food brought on by decades of globalization and the ways that these new cultural sensibilities affect the way Mr. Lebovitz cooks at home. I have no affinity for Paris and the book will appeal to some readers much more than it did to me. I found the recipes normal, and thus uninteresting. It is nice, though, to find a recipe for harissa from someone I think I can trust.I received an advance review copy of My Paris Kitchen by David Lebovitz (Ten Speed Press) through NetGalley.com.
Review by SquirrelHead
27/08/2015
I am a big fan of cookbooks, well…all books actually, but cookbooks are always in my top five on my reading list. Picking up a cookbook I can happily sit and skim over the recipes and photos, enjoying the occasional personal remark introducing a particular recipe. My Paris Kitchen is in a special category. It's not just a compendium of recipes and photos, it's a story line about where to shop in Paris, narratives of merchants and the conversations they have with their customers. It's a memoir of cooking, shopping and living in Paris. The book is filled with colorful photographs of the city and of course, the yummy dishes Lebovitz prepared.Like many of Lebovitz's fans I follow him on Twitter and read his blog. He was quite kind in taking the time to respond to a comment to me on Twitter. A photo with a batch of lovely Madelines was posted and I remarked that I was disappointed mine came out burnt on the edges. He let me know Madelines aren't always an easy concoction and answered a question. That was quite nice as I imagine he is inundated with requests and comments.If you are a Francophile or you love David Lebovitz or you just enjoy looking through an excellent cookbook, this book won't disappoint.The first recipe I tried from this book was the eggplant caviar. We were having grilled lamb so eggplant was a natural as a side dip. Prepare a cookie sheet by covering with a piece of parchment paper, lightly oil with olive oil and liberally salt the oiled paper.Take a globe eggplant puncture the skin all over. Now roast the whole uncut eggplant over direct flame for about 5 minutes. The longer you keep it over a flame the smokier your end result will be.Cut the ends off the eggplant and place on a cookie sheet, cut side down into the oil.Roast at 375 F for 30 to 40 minutes, until eggplant is soft.Scrape eggplant pulp out of skin and place in a food processor. Add a ½ tablespoon olive oil, 2 tablespoons fresh lemon, salt and pepper, smoked paprika and a few garlic cloves. Pulse until almost smooth. I added a bit too much lemon and so my mixture was smoother than called for. But it was good!