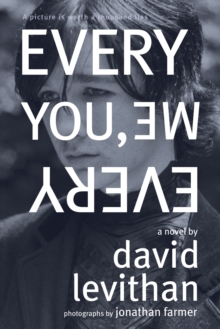 Every You, Every Me
Paperback
Information
Format: Paperback
Pages: 256 pages
Publisher: Random House USA Inc
Publication Date: 11/09/2012
Category: General
ISBN: 9780375854514
Free Home Delivery
on all orders
Pick up orders
from local bookshops
Reviews
Showing 1 - 4 of 4 reviews.
Review by LaneLiterati
16/06/2015
David Levithan utilizes strike through to establish a doubtful narrator. The concept of how well you really know someone was interesting to find in a young adult novel. I also liked having the mystery surrounding the photographs instead of trying to tell the story through them.
Review by snapsandreads
16/06/2015
Emo, emo, emo. Full of young adult "emo-tism", if that's what they call it. I was disappointed because I liked David Levithan's Everyday and this is just the total opposite for me. But I loved the photographs though. :D That's what kept me interested. ;)
Review by Kassilem
16/06/2015
First of all, I really like David Levithan's writing. He has some very interesting ideas. IN this case, writing a novel around photographs. Photographs he never knew what of until he received them from a photographer who didn't know what the book was about. It was interesting. At first I was sort of irritated because half the text is crossed out and trying to read it creates long run on sentences. But I quickly got used to it and soon it actually told much more about the story and the character. Levithan has such talent with words and expressions. I'm definitely glad I got to this one. Reading his books always give me something to think about it. There's always something deeper to find in his books.
Review by MzzColby
27/08/2015
How do you preserve the memories of a relationship when your best friend is gone? Levithan and Farmer craft a haunting story of two high school boys who have a tenuous bond with each other through the anguished girl they lost. But this ambiguous relationship is about to be tested as Evan begins to find puzzling photographs that unravel his grasp on his relationships (past and present) and reality… almost. Incorporating strikeout text and Farmer's photographic images Levithan only wrote the cryptic passages as he received the photographs. Unaware of Levithan's developing story, Farmer continued to create the enigmatic images of his own design. Through their partnership the ensuing mystery created itself. At times a psychological thriller and at times a love story, "Every You, Every Me" will appeal to young adult readers who struggle with growing relationships as they begin to understand that everyone has a secret self that they might not be ready to share.