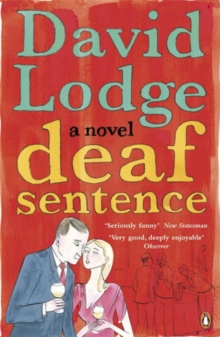 Description
Retired Professor of Lingustics Desmond Bates is going deaf.
It's a bother for his wife who has an enviably successful new career and is too busy to be endlessly repeating herself.
Roles are reversed with his aging father, who resents his son's attempts to help him. And then there's Alex, a student whom Desmond has agreed to help after a typical misunderstanding at a party.
But her increasingly bizarre requests cannot all be blamed on his defective hearing.
So much for growing old gracefully...
Information
Format: Paperback
Pages: 320 pages, None
Publisher: Penguin Books Ltd
Publication Date: 04/06/2009
ISBN: 9780141035703
Other Formats
Hardback from £12.89
EPUB from £9.99
Free Home Delivery
on all orders
Pick up orders
from local bookshops
Reviews
Showing 1 - 5 of 7 reviews.
Previous | Next
Review by sloopjonb
16/06/2015
macnabbs and LyzzyBee have said pretty much all I wanted to say, except that Desmond's near-deaf experience isn't mine ... only an idiot would try and pretend they could hear during a long conversation. And his hearing aids sound like crap - mine works much better than those described, and mine's an NHS one!
Review by LyzzyBee
16/06/2015
Bought 19 Oct 2009 - AmazonI was very much looking forward to reading this novel by a favourite author, but unfortunately it was disappointing. There were two strands to the novel - one, the narrator's increasing deafness and his relationship with his aging father, and two, a rather fantasy-driven relationship between the narrator, a younger ex-colleague and a nubile postgraduate student. The first thread, which Lodge admits in the acknowledgements was based on autobiographical experience, might have been better told as memoir. The parts on deafness were on the whole interesting, although I found a reliance on silly puns and ideas of what had been said a bit wearing. The parts about the elderly father were touching, but have, really, been done before elsewhere and didn't really add anything to the subject. The strand about the postgraduate student felt a bit grubby and the writing of a late-middle-aged fantasy, which felt a bit distasteful (I have met the author a couple of times and this didn't sit well with my view of him - fine in a completely invented tale but uneasy in something which had some autobiography in it) and seemed to peter out oddly.A scene remembering and considering 7/7 seemed clumsily inserted (it is hard to do this well, and can jar, but can be done better than this) and there were a few rants about Centre Parks and Young People Today which would fit better into a Grumpy Old Men book, almost as if these passages had already been written and were popped in to make up the word count.There was some good stuff on linguistics, some interesting passages about the lip-reading class the narrator joins, (although a passage about hearing dogs for the deaf seemed to be inserted as a point of information for the readers)I feel bad that I didn't enjoy this more, but I didn't. I was disappointed, and I and, I suspect, other readers, deserve more of this wonderful novelist and satirist. I will still go back to, especially, the early novels with glee, but I'll be nervous about approaching the next new one when it comes.
Review by triscuit
16/06/2015
How can I sell a novel about a retired prof who is going deafer by the day? David Lodge is an author I have liked over the years so I took it on faith to give this one a try. What a great read! You will gain a sympathetic understanding of the frustrations faced by the hard of hearing (turning up the hearing aid is not always the solution) while being pulled along by interesting characters and a plot line involving a student stalker.
Review by curlycurrie
16/06/2015
It has been years since I read my one and only David Lodge book (Nice Work)and after reading Deaf Sentence I ask myself 'why did I wait so long?' I absolutely loved this. It made me laugh out loud. It was witty, a little depressing, but really well read. I wanted to adopt the adorable Professor Bates and his traditional view of the English Language and his failing hearing. I'm off to read more David Lodge.
Review by kevinashley
16/06/2015
One of those books in which just about every phrase from the reviews quoted in the paperback copy rings true. 'Enjoyable, though-provoking' ... 'deeply melancholic' ... 'funny, humane' ... 'extremely readable.' All true, and much more besides.'Deaf Sentence' is the story of Desmond Bates, a retired English academic who has been losing his hearing for some time and is still struggling with the consequences. Hearing aids that don't always function, conversations at social functions in echoing rooms where it is necessary to guess almost all of the other party's words and meaning. Desmond's (second) wife has become a successful businesswoman in later life; they each have one ageing parent left, though Desmond's is coping less well with his age and will come to play a more significant part in the plot. That plot also involves Desmond being drawn back into the fringes of academic life in his university and elsewhere.Lodge is a master at combining humour and pathos effortlessly and you can feel for his characters whilst laughing with them and at them. He explores many themes, including favourites such as religion, death, sex and language and others including the Holocaust, step-families, suicide and inter-generational ties. As is often the case he also plays with the form, in this case by switching the narrative regularly from the third person to the first person. This is done by a natural device; it is sometimes signalled explicitly and sometimes noted after the change, but never intrudes on what is an effortless read.Lodge has previously referred to the difficulties faced by translators of fiction within his novels; in this one, he notes in the dedication that this book will present them with particular difficulties from the title onwards. This is in part because the narrator is frequently trying to translate poorly-heard spoken English into something meaningful. Much of the humour, and some of the plot, is contingent on these mishearings and partial hearings.A perfect novel in every way, and one that's as good an introduction to his work as any other.