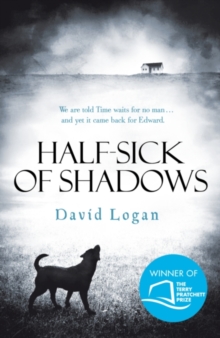 Half-sick of Shadows
Hardback
Description
On the eve of Granny Hazel's burial in the back garden, a stranger in his time machine - a machine that bears an uncanny resemblance to a Morris Minor - visits five year-old Edward with a strange request. And Edward agrees to be his friend. But Edward is not alone in the world. His twin sister Sophia is about to bring future tragedy upon herself through an all-too-literal misunderstanding of a promise she's made to their father.
So while Sophia stays at home, seemingly condemned to spend the rest of her days in The Manse - a world untouched by modern trappings - Edward is sent to boarding school.
There he encounters the kind and the not-so-kind, and meets the strangest child.
His name is Alf, and Alf is a boy whose very existence would seem to hint at universes of unlimited possibilities ...and who might one day help Edward liberate Sophia.
With its Gothic backdrop, "Half-Sick of Shadows" is a novel of many parts: at once a comical tragedy, a dark and dazzlingly told tale of childhood wonder and dismay, of familial dysfunction, of poetry, the imagination and theoretical physics.
Information
Format: Hardback
Pages: 304 pages
Publisher: Transworld Publishers Ltd
Publication Date: 10/05/2012
Category: Fantasy
ISBN: 9780857521163
Other Formats
Paperback from £7.09
EPUB from £4.99
Free Home Delivery
on all orders
Pick up orders
from local bookshops
Reviews
Showing 1 - 1 of 1 reviews.
Review by passion4reading
16/06/2015
Edward Pike lives with his dysfunctional family, including his beloved twin sister, Sophia, in the Manse, a remote old house in the middle of nowhere with a cemetery at the back of the garden. On the day of his grandmother's burial, a stranger appears in his time machine and asks to be Edward's friend. While Sophia remains at the Manse to stay and, eventually, care for her parents, we follow Edward through his childhood and adolescence at boarding school until his eventual return back home.I have to admit that I was intrigued by the set-up of this novel, and Terry Pratchett's praise ("A most excellent writer.") and the logo of the Winner of the Terry Pratchett Prize on the front cover made me think that I couldn't go much wrong here; well, I was wrong. Told mainly from Edward's point of view and in the first person, the book starts well enough: his precociousness a bit irritating, and peppered with wry, sardonic observations that mark him out as a bit of an oddball, but which, nevertheless, provide some amusing anecdotes and flights of fancy about religion and boarding school in that Terry Pratchett sort of way. Unfortunately, it all goes horribly wrong, with disconnected ramblings about nothing in particular and some rather morbid passages that left a very bad taste in my mouth. Towards the end it all descends into a dark farce, and some of the most pressing questions, such as: who exactly is the stranger, and why is he there? go largely unanswered, unless I missed some vital clues. David Logan has some interesting ideas about predetermined paths in life and quantum physics, among others, but I'm afraid it doesn't quite come together for me, and the ending just left me with a big ? imprinted on my forehead. Disappointing.(This review was originally written as part of the Amazon Vine programme.)