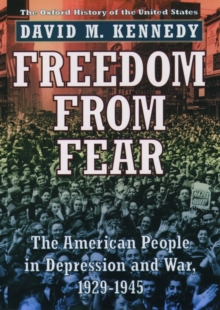 Freedom from Fear : The American People in Depression and War 1929-1945
Paperback
Description
Between 1929 and 1945, two great travails were visited upon the American people: the Great Depression and World War II.
Freedom from Fear tells the story of how Americans endured, and eventually prevailed, in the face of those unprecedented calamities.
The Depression was both a disaster and an opportunity.
As David Kennedy vividly demonstrates, the economic crisis of the 1930s was far more than a simple reaction to the alleged excesses of the 1920s.
For more than a century before 1929, America's unbridled industrial revolution had gyrated through repeated boom and bust cycles, wastefullly consuming capital and inflicting untold misery on city and countryside alike.
Nor was the fabled prosperity of the 1920s as uniformly shared ag legend portrays.
Countless Americans, especially if they were farmers, African Americans, or recent immigrants, eked out thread bare lives on the margins of national life.
For them the Depression was but another of the ordeals of fear and insecurity with which they were sadly familiar. Franklin Roosevelt's New Deal wrung from the trauma of the 1930s a lasting legacy of economic and social reform, in cluding the Social Security Act, new banking and financial laws, regulatory legistlation, and new opportunities for organized labour.
Taken together, those reforms gave a measure of security to millons of Americans who had never had much of it, and with a fresh sense of having a stake in their country.
Freedom from Fear tells the story of the New Deal's achievments, without slighting its shortcomings, contraditions and failures.
It is a story rinch in drama and peopled with unforgettable personalities, including the incandescent but enigmatic figure of Roosevelt himself.
Even as the New Deal was coping with the Depression, a still more fearsome menace was developing abroad-Hitler's thirst for war in Europe, coupled with the imperial ambitions of Japan in Asia.
The same generation of Americans who battled the Depression evenutally had to shoulder the arms in another conflict that wreaked world wide destruction, ushered in the nuclear age and forever changed their own way of life and their country's relationship to the rest of the world. Freedom from Fear explains how the nation agonized over its role in World War II, how it fought the war, why the United States won, and why the consequences of victory were sometimes sweet, sometimes ironic.
In a compelling narrative, Kenney analyses the determinants of American strategy, the painful choices faced by commanders and statesmen, and the agonies inflicted on the millions of ordinary Americans who were compelled to swallow their fears and face battle as best they could.
Freedom from Fear is a comprehensive and colourful account of the most convulsive period in American history, excepting only the Civil War - a period that formed the crucible in which modern America was formed.
Information
Format: Paperback
Pages: 992 pages, 65 halftones, 10 line figures
Publisher: Oxford University Press Inc
Publication Date: 01/04/2001
Category: History of the Americas
ISBN: 9780195144031
Free Home Delivery
on all orders
Pick up orders
from local bookshops
Reviews
Showing 1 - 5 of 6 reviews.
Previous | Next
Review by Angelic55blonde
16/06/2015
This book is HUGE but a great read. It won the Pulitizer Prize and it is obvious why. Not only is it thoroughly researched but it is an easy read. The author's writing flows and he really brings the period to life. It is a long book, almost a thousand pages, but it is an important addition to the historiography of this period. I highly recommend this for historians, history buffs, and anyone else.
Review by annbury
16/06/2015
This book, covering the years 1930-1945, is a worthy entry in the splendid Oxford History of the United States (of which Mr. Kennedy is the current editor). This book is magisterial in scope, and is as balanced as is possible, in a volume covering so many issues that are still highly contentious today. This is not a quick read -- it is an overview of the history of the period, approaching that period from a variety of viewpoints; political, historical, social, and cultural. That adds up to an enormous amount of material, but Mr. Kennedy's vivid prose style and gift for storytelling makes it far more enjoyable that the phrase "historical survey" usually suggests. As to balance, Mr. Kennedy presents his major characters as rounded individuals with good and bad character traits, who made both good and bad choices. I had not realized, for example, that Herbert Hoover's policies in so many ways foreshadowed FDR's, nor had I realized just how scatter-shot the New Deal really was. For those who want to learn more about this period, during which so many of our current political issues find their roots, this book is very strongly recommended.
Review by NewsieQ
16/06/2015
A good overview with sufficient detail to keep history buffs interested, but not so much as to overpower. Although I enjoyed reading it, I thought the subtitle (The American People in Depression and War) was a bit misleading. The book was very much about the leaders -- their strategies in fighting the economic downturn, the Nazis and Japan -- but not much about the "American People." As an example, there was nothing at all about rationing during the war or about the specific New Deal Programs and how they helped Americans. Maybe that's too much to expect in 860+ pages of text.
Review by robertmorrow
16/06/2015
There are two things you should know before reading this book. The first is that it is a very thorough history of the period, and as such, a fairly long book that requires a serious commitment. The second is, as other reviewers have noted, there is very little about the people beyond statistics and a few anecdotes. Rather, this is a comprehensive textbook of American history from the Great Depression to the end of World War II, and as such, FDR gets a lot of air time.That said, it is an excellent history that can serve both as a reference work and a debate-sparker. Certain passages are simply outstanding, such as the Japanese resettlement; a few are boring, such as the two barrages of economic statistics that appear in the early and late parts of the book. Much of the story has been told in many other works; still, Kennedy has to be given credit for writing some of the events in a way that makes them seem fresh and interesting (Pearl Harbor, for instance). There are of course new facts from the research, but what makes the book special is Kennedy's ability to synthesize fact, event and human impulse into valid interpretations of truth. So, if you are entirely unschooled in the period, this is a must-read. If you have read a great deal of American history, you may find yourself wanting to skip certain passages that reveal little anything you do not already know. I fall into the latter category, but I still enjoyed the book as a masterpiece of a fine historian.
Review by gbelik
16/06/2015
This general history of America in the Depression and WW2 was detailed enough to be informative. I must admit to skimming the actual war years. I found the depression and the build-up to the war to be most interesting.
Also in the Oxford History of the United States series | View all