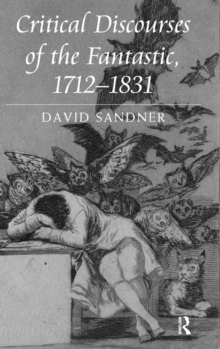 Critical Discourses of the Fantastic, 1712-1831
Hardback
Description
Challenging literary histories that locate the emergence of fantastic literature in the Romantic period, David Sandner shows that tales of wonder and imagination were extremely popular throughout the eighteenth century.
Sandner engages contemporary critical definitions and defenses of eighteenth- and early nineteenth-century fantastic literature, demonstrating that a century of debate and experimentation preceded the Romantic's interest in the creative imagination.
In 'The Fairy Way of Writing,' Joseph Addison first defines the literary use of the supernatural in a 'modern' and 'rational' age.
Other writers like Richard Hurd, James Beattie, Samuel Johnson, James Percy, and Walter Scott influence the shape of the fantastic by defining and describing the modern fantastic in relation to a fabulous and primitive past.
As the genre of the 'purely imaginary,' Sandner argues, the fantastic functions as a discourse of the sublime imagination, albeit a contested discourse that threatens to disrupt any attempt to ground the sublime in the realistic or sympathetic imagination.
His readings of works by authors such as Ann Radcliffe, William Beckford, Horace Walpole, Mary Shelley, Walter Scott, and James Hogg not only redefine the antecedents of the fantastic but also offer a convincing account of how and why the fantastic came to be marginalized in the wake of the Enlightenment.
Free Home Delivery
on all orders
Pick up orders
from local bookshops
Also by David M. Sandner