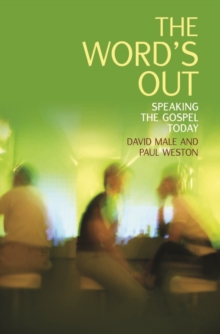 The Word's Out : Speaking the Gospel Today
Paperback
Description
At a time when the majority of people do not attend church, evangelism is more important than ever.
The problem is that churches and individuals often struggle with or even reject the idea, when what they have in mind is a caricature of evangelism or a particular way which may no longer be culturally appropriate.
This book aims to reform, re-imagine and renew a theology, vision and practice for evangelism.
Its approach is theologically rigorous and powerfully practical, with the focus on redefining a genuine biblical evangelism.
What does it mean to be an 'evangelist' now? If it isn't your primary gifting, how can you facilitate it in your church? And how can we connect not just with those on the fringes but with those who are way outside?
Information
Format: Paperback
Pages: 176 pages
Publisher: BRF (The Bible Reading Fellowship)
Publication Date: 01/03/2013
Category: Christian mission & evangelism
ISBN: 9780857461698
Free Home Delivery
on all orders
Pick up orders
from local bookshops
Reviews
Showing 1 - 1 of 1 reviews.
Review by jandm
16/06/2015
This is a great book for all those scared of, or unhappy with, their understanding of how to evangelise others. If you have a method that already works, then you might not need this. But that, I suspect, still leaves rather a large audience.Particular highlights for me were Paul Weston's chapters showing how evangelism is at root *discernment* worldviews and *reimagining* them under the Christian frame of reference. (Here he follows Brueggemann and MacIntyre.) He also suggests that conversations with non-believers centred around re-telling the stories and parables that Jesus told, and asking people respond to Him, will be more powerful than anything clever we can dream up to say. And Dave Male's help and encouragement to those (many) Christian leaders who themselves feel poor at evangelism. He doesn't give us a way out of doing it, but encourages us to be honest in our personal successes and failures here, alongside envisioning and equipping congregations.I've docked half a star in my rating as it feels like two separate books by separate authors, not one coherent whole. But this is a minor issue in a book I heartily recommend.