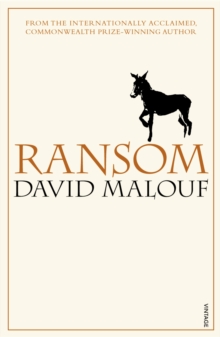 Description
In this exquisite gem of a novel, David Malouf shines new light on Homer's Iliad, adding twists and reflections, as well as flashes of earthy humour, to surprise and enchant.
Lyrical, immediate and heartbreaking, Malouf's fable engraves the epic themes of the Trojan war onto a perfect miniature - themes of war and heroics, hubris and humanity, chance and fate, the bonds between soldiers, fathers and sons, all brilliantly recast for our times.
Information
Format: Paperback
Pages: 240 pages
Publisher: Vintage Publishing
Publication Date: 27/09/2010
ISBN: 9780099539520
Free Home Delivery
on all orders
Pick up orders
from local bookshops
Reviews
Showing 1 - 1 of 1 reviews.
Review by JanetinLondon
16/06/2015
This is a retake of the familiar tale of Achilles and Priam at Troy, Iliad book 24 (well, if you don't know the story at all, you will probably not be reading this book). But this version is personal, introspective, poetic, mystical, from both Achilles' and Priam's points of view. When the book opens, the key preliminary events have happened – Achilles has temporarily disengaged from the battle, Patroclus goes in his place and is killed by Hector, Achilles kills Hector and drags his body around the city. But although he does this for 11 days, Hector's body stays fresh, and Achilles' rage and angst are unassuaged. Achilles broods and contemplates, waiting for whatever is going to happen to break the spell and return the world to "normalcy".Most of the story, though, belongs to Priam. He, too, is brooding on what to do, how to ransom Hector's body. He realizes the situation is a unique moment in time, and demands something new. His court are horrified, as their whole society, and his leadership, have been based on tradition, ritual, etc. Why, they ask, should Achilles respond to something new? Well, says Priam, just maybe this is a breakthrough moment for both of us – "And perhaps, because it is unexpected, it may appeal to him, too: the chance to break free of the obligation of being always the hero, as I am expected always to be the king. To take on the lighter bond of being simply a man. Perhaps that is the real gift I have to bring him. Perhaps that is the ransom."He goes, as per the original, unadorned, to ask Achilles to ransom Hector. This is where Malouf's imagination takes over, showing the huge impact on Priam of letting in the possibilities of something new, something different.Much of the story is told in dreamlike, poetic language, making it the mythic tale it is meant to be. In fact, in an afterward, Malouf says that the book <i>is</i> partly about the nature of storytelling itself. In any event, it's a very well told and written one, and I really enjoyed it.