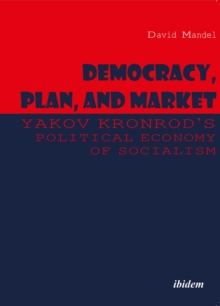 Democracy, Plan, and Market: Yakov Kronrod's Political Economy of Socialism
Paperback / softback
Description
This is the first book in English to present a succinct overview of the influential work of Russian economist Yakov Abramovich Kronrod (19121984) on the political economy of socialism.
Kronrod headed the theoretical section of the Institute of Economics of the Academy of the USSR in the 1970s until the authorities decided that his ideas were dangerous, banning Kronrod's publications until his death in 1984.
Kronrod argued that while national ownership and democracy are the dominant relations of socialism, commodity-market relations nevertheless have an important role to play in the planned economy.This stunning, revelatory book includes a first translation of one of Kronrod's key essays, 'Socio-oligarchismPseudo-Socialism of the Twentieth Century' and introduces Kronrod's thought to the English-speaking world for the first time.
Information
Format: Paperback / softback
Pages: 140 pages
Publisher: ibidem-Verlag, Jessica Haunschild u Christian Scho
Publication Date: 30/09/2017
Category: Marxism & Communism
ISBN: 9783838210087