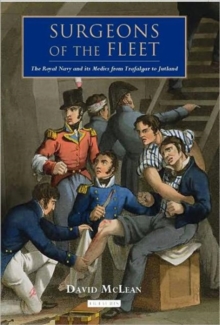 Surgeons of the Fleet : The Royal Navy and Its Medics from Trafalgar to Jutland
Hardback
Description
During her imperial heyday, Britain's greatest fighting force - the Royal Navy - was only ever as good as its surgeons. "Surgeons of the Fleet" explores the dramatic story of medical practice on the high seas, offering the first full portrait of the men who dedicated their lives to the Navy, and their contribution to its efficacy as a military machine.
With vivid and occasionally eye-watering description, David McLean traces the development of naval medicine from the gory days of Cook and Nelson - when as many as 65 per cent of maritime casualties were due to illness - through to the outbreak of World War I, recounting the advances in surgery, diet and hygiene which allowed Britannia to rule the waves. "Surgeons of the Fleet" also offers a unique window into the development of public health programmes on land, many of which grew out of maritime initiatives.
Brimming with original research and colourful storytelling, "Surgeons of the Fleet" makes an invaluable contribution to the fields of military and imperial history.
Information
Format: Hardback
Pages: 328 pages, Illustrations
Publisher: Bloomsbury Publishing PLC
Publication Date: 30/07/2010
Category: Naval forces & warfare
ISBN: 9781848852846