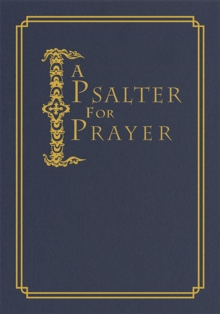 A Psalter for Prayer : An Adaptation of the Classic Miles Coverdale Translation
Hardback
Description
A Psalter for Prayer is the first major English edition to include all the prayers needed to read the Psalter at home.
In addition, the contents include many texts not easily found in English, such as the Rite for Singing the Twelve Psalms, directions for reading the Psalter for the Departed and much more.
The Psalms and Nine Biblical Canticles have been adapted from the classic Miles Coverdale translation of the Book of Psalms and the King James Version of the Bible.
The text has been carefully edited to agree with the original Greek of the Septuagint, as well as to the Latin and Church Slavonic translations.
Information
Format: Hardback
Pages: 384 pages, 33 Line Drawings, Two-color Interior
Publisher: Holy Trinity Publications
Publication Date: 30/01/2019
Category: Orthodox & Oriental Churches
ISBN: 9780884654742