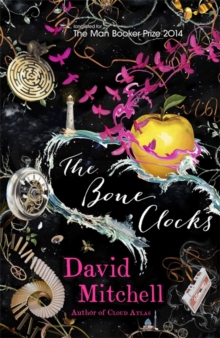 Description
Metaphysical thriller, meditation on mortality and chronicle of our self-devouring times, this is the kaleidoscopic new novel from the author of Cloud Atlas.
SHORTLISTED FOR THE NATIONAL BOOK AWARDS UK AUTHOR OF THE YEAR 2014 LONGLISTED FOR THE MAN BOOKER PRIZE 2014 LONGLISTED FOR THE FOLIO PRIZE 2015 One drowsy summer's day in 1984, teenage runaway Holly Sykes encounters a strange woman who offers a small kindness in exchange for 'asylum'.
Decades will pass before Holly understands exactly what sort of asylum the woman was seeking ...The Bone Clocks follows the twists and turns of Holly's life from a scarred adolescence in Gravesend to old age on Ireland's Atlantic coast as Europe's oil supply dries up - a life not so far out of the ordinary, yet punctuated by flashes of precognition, visits from people who emerge from thin air and brief lapses in the laws of reality.
For Holly Sykes - daughter, sister, mother, guardian - is also an unwitting player in a murderous feud played out in the shadows and margins of our world, and may prove to be its decisive weapon.
Information
Format: Hardback
Pages: 608 pages, 6
Publisher: Hodder & Stoughton General Division
Publication Date: 02/09/2014
ISBN: 9780340921609
Other Formats
Paperback from £7.85
EPUB from £0.99
CD-Audio from £25.65
Free Home Delivery
on all orders
Pick up orders
from local bookshops
Reviews
Showing 1 - 4 of 4 reviews.
Review by Eyejaybee
16/06/2015
I am still trying to decide what I think of The Bone Clocks. Much of it - indeed, most of it - was marvellously entertaining, written with Mithchell's customary verve. I did, however, struggle to enjoy the rest of it, and as that might be said to be the crucial part , I suppose that it just didn't work for me.Like the marvellous Cloud Atlas, this book features several different narratives delivered in the first person by a selection of different characters. The first is recounted by Holly Sykes, who leaves her home in Gravesend in 1984, aged 15, following a cataclysmic argument with her mother. The succeeding chapters are related by different characters who encounter Holly over the course of the next fifty or so years.Most of these succeeding chapters are good, and some are excellent. My favourite section of Cloud Atlas, which had an almost concentric chapter structure, was 'The Ghastly Ordeal Of Timothy Cavendish' which recounted the travails visited upon an opportunist but seldom successful publishers. I found that 'Crispin Hershey's Lonely Planet' formed a close counterpart to this in the new novel, and I especially enjoyed the literary poisoned darts that Hershey/Mitchell throw out at some readily identifiable literary sacred cows of the present day.There was, however, a more troubling side to the book. Throughout the novel there are reference to a struggle between The Horology and The Anchorites, two warring bands of people with their own respective brands of superpowers. The members of the Horology move from one carrier body to another, repeatedly inhabiting new forms and extending their lives over centuries or even, in the case of Esther Little, over millennia. The Anchorites also have paranormal abilities but their particular twist is to aspire towards eternal youth. These two groups are in perpetual combat, and episodes of their combat intrude into the otherwise 'normal' activities captured in the novel. I am willing to accept the charge of being a hidebound traditionalist but I found this exceptionally annoying, and it detracted significantly from my enjoyment of the book. If I had wanted to read a science fiction story of that type I would have bought an Iain M Banks book and struggled to suspend my disbelief sufficiently. I would, however, at least have had some idea of what I was letting myself in for. I expected rather better of David Mitchell. To be fair, the good bits were exceptionally good, but the overall work just could have been much better.
Review by AdonisGuilfoyle
16/06/2015
I'm caught between admiration and irritation with this one. David Mitchell's novel aims to match <i>Cloud Atlas</i> for cleverness, but fails on originality. I was intrigued by the 'temporal' other-world, with two warring immortal factions dragging humanity into the fight for eternity, but the individual narratives - Holly, Hugo, Ed, Marinus - lacked the same depth and variety that brought <i>Cloud Atlas</i> to life for me. Balancing wry observations about publishing, technology and the human condition with a strong fantasy plot didn't work for Mitchell this time - the expositional dialogue about defying time and body-hopping smacked of Stephen King 'cutesiness' to me, trying to force the reader to accept the author's world-building without putting the work in. No element of the story really stuck with me, or stirred my imagination, possibly because of all the loose ends - the jumps between character, time and place, though no doubt intentional, left me feeling like I was reading a collection of unfinished short stories, not a long novel with a common thread. Although, that being said, Holly - the 'heroine' of the piece - did start to grate on my nerves by the final chapters, so maybe I should be thankful for small mercies! Readable, but not rateable.
Review by AThurman
16/06/2015
I loved Ghostwritten and Cloud Atlas. In those works the hints of fantasy/resurrection add an edge of imaginative indeterminacy to the mostly densely rendered realities their crazily ambitious plots pull together. In The Bone Clocks there's a disappointing inversion--the realities become more formulaic and cynical and the sadly two-dimensional fantasy frame-story comes to the fore. The intertextuality with Mitchell's earlier books threatens to diminish those narrative worlds retroactively, by needlessly interlacing them with sillystring.
Review by lemotamant898
02/03/2016
So, I finished this book two minutes ago, uttered a satisfyingly noncommittal 'wow', and got on GoodReads to stick my little flag in the depths of it's book jacket and claim it conquered. I've read <i>Cloud Atlas</i> and <i>Black Swan Green</i> was actually my first introduction to David Mitchell back in 2007. Caught sight of this book while browsing at the library and figured it might be great or it might be drivel, who really knows. <br/><br/>Right this moment I feel like voting for the former, to an extent. I tend to split hairs over genre-benders, feeling that, more often than not, they're the result of multiple books mashed together into a hodgepodge of inconsistent character development, rushed plot lines, and leaping g-a-p-s of back info or an overabundance of same. The hairs being splitted, I'd say there was a bit of fantasy-smashing into this book as well. However, I'd also say it worked to an extent that it might not have if this was developed into a series or a pair of novellas. The novel encompasses the very act of fantasy-meets-life along the course of a set number of years. What better way to demonstrate the crashing set of facts thrust upon Holly (and others) than to let them crash into the story itself? <br/><br/>All in all, a satisfying read that was written with a good amount of wit, sarcasm, and interest. I'd definitely suggest it.