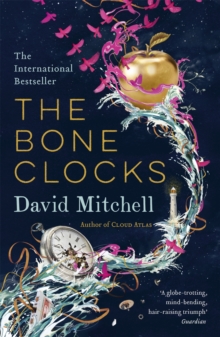 The Bone Clocks
Paperback
Description
The dazzling new novel from the bestselling author of CLOUD ATLAS.Longlisted for the Man Booker Prize 2014Run away, one drowsy summer's afternoon, with Holly Sykes: wayward teenager, broken-hearted rebel and unwitting pawn in a titanic, hidden conflict.Over six decades, the consequences of a moment's impulse unfold, drawing an ordinary woman into a world far beyond her imagining. And as life in the near future turns perilous, the pledge she made to a stranger may become the key to her family's survival . . .
Information
Format: Paperback
Pages: 640 pages, 6 Illustrations, unspecified
Publisher: Hodder & Stoughton General Division
Publication Date: 18/06/2015
ISBN: 9780340921623
Other Formats
Hardback from £15.79
EPUB from £5.99
CD-Audio from £25.65
Free Home Delivery
on all orders
Pick up orders
from local bookshops
Reviews
Showing 1 - 2 of 2 reviews.
Review by iansales
09/10/2015
According to my records, I read Cloud Atlas back in April 2009, likely as a result of recommendations by friends and acquaintances. I thought the novel good, but it didn't quite gel for me. I then worked my way through Mitchell's oeuvre – number9dream, Ghostwritten, Black Swan Green and The Thousand Autumns of Jacob de Zoet – over the following three years. Last year, The Bone Clocks was published… Initial noises were good, but then a few dissenting voices appeared… What was clear, however, was that it was structured as a series of linked novellas and that it moved deeper into genre territory as it progressed. I was, I admit, expecting a novel not unlike Cloud Atlas, one that had many impressive pieces but together left me feeling a little disappointed. Happily, this wasn't the case at all. True, you wait for a book about conspiracies of body-hopping immortals and three come along at once – there are elements of The Bone Clocks that are reminiscent of Claire North's Touch and of Marcel Theoux's Strange Bodies – although for secret wars masterminded by hidden groups, you might as well go all the way back to EE 'Doc' Smith's Arisians and Eddorians. The Bone Clocks follows Holly Sykes from her teen years in southern England, when she runs away from home, through to a post-apocalyptic Ireland some thirty years from now. Along the way, other voices occasionally take over the narrative, such as egocentric author Crispin Hershey (based on Martin Amis?), a well-handled pastiche although it reminds me of Charles Palliser's brilliant piss-take of Jeffrey Archer in Betrayals; and even one of the immortals, who is, at that time, occupying the body of a black Canadian psychologist. The two factions at war are the Horologists, who are serial reincarnators and seem to have arisen naturally among humans; and the Anchorites of the Chapel of the Dusk of the Blind Cathar, who are able to "decant" souls in order to extend their own lives. Holly becomes inadvertently involved with these two groups, partly because one of the immortals reincarnates in her younger brother, partly because the Horologists prevent her from being groomed to be "decanted", and partly because she has a brief fling with Hugo Lamb, who is recruited by the Anchorites. Holly is a great character and Mitchell handles her brilliantly. Some of the other elements I found less successful – the Anchorites reminded me a little of the baddies in the bande dessinée L'Histoire secrète by Jean-Pierre Pécau (both have chief villains with no eyes); and the post-apocalypse scenario hewed somewhat too closely to the common template. Much has also been made of those characters which have appeared in other Mitchell novels and stories, but this is hardly unique nor does it add much to this novel. Nonetheless, a very good book, and I'm looking forward to reading Slade House.
Review by missizicks
23/09/2015
The Bone Clicks is an accomplished novel. Mitchell seems to have worked out what his previous flirtations with time travelling souls is all about, and it's a curious mix of mysticism, Cathars and science fiction. I liked the allusion to Buddhist belief that the departing soul needs 49 days to find a new body. I also liked the pragmatism of the Horologists. The Atemporals I found a bit too sketchy as a concept. Perhaps Mitchell was hoping to achieve something more akin to Eco. He missed, and I was left feeling he should have gone for the Glenn Duncan/Last Werewolf approach. The final showdown between the Horologists and Atemporals wasn't thrilling or dangerous enough. The human stories of Holly, Ed and Aoife were gripping, though. Crispin Hershey's segment was a bit cheesy. Lord Brittan/Lord Sugar? Come on, Mitchell, you're better than that! And Hershey was another from the box of smug, tedious, white male wankers whom I found it hard to care about. But he moved the plot along. Over all, though, I really enjoyed it, as I have enjoyed the other books by David Mitchell.