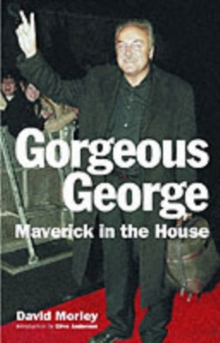 Gorgeous George : Maverick in the House
Hardback
Description
George Galloway has made a career of confrontation and has a life story that is stranger than fiction, with all the key ingredients of a soap opera - power, celebrity and, to a lesser extent, politics.
As a career controversialist, Galloway is uncompromising in his public demeanour - as those who have crossed or just disagreed with him have found to their cost - hence his failure to win the hearts of Big Brother viewers.
Espousing a brand of 'catch-me-if-you-can' politics, Galloway has consistently remained one step ahead of his detractors, even confounding the United States Senate in their attempts to tie him to allegations over illegal oil trading in Iraq. This, the first biography of the most fascinating ego and least likely celebrity of recent times, includes: his time as MP for Dundee, and the way he rose to the top; the loves and successes, earning him the nickname Gorgeous George; his leadership of War on Want and, later, the Mariam Appeal and the accusations made; the Member for Baghdad Central: Driving a routemaster bus to Iraq, and friendship with Saddam Hussein Shock expulsion from the Labour Party and the sensational Respect victory in the bitter campaign for Bethnal Green; his brilliantly deflating Senator Norm Coleman at the US Senate hearings into allegations of 'Oil for Food' irregularities.
Whatever his motives, whatever his actions, George Galloway is rarely less than sensational, newsworthy and controversial.
Gorgeous George is the definitive biography of one of the most extraordinary political figures of our times.
Information
Format: Hardback
Pages: 320 pages
Publisher: Methuen Publishing Ltd
Publication Date: 16/07/2007
ISBN: 9781842751855
Free Home Delivery
on all orders
Pick up orders
from local bookshops