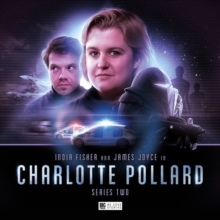 Charlotte Pollard : Volume 2
CD-Audio
Description
The Doctor's former companion Charlotte "Charley" Pollard returns for a second series of solo adventures.
Charlotte Pollard...Space-time traveller. Former emissary of the mysterious and terrifying Viyrans...Now's she's cast adrift and finds herself brought right down to Earth, but an Earth which is changing rapidly.
Why and how have they crash landed in the London Underground?
Who are the Identical Men? And why is human behaviour starting to change in startling and unexpected ways?
Charley, Robert and their Rogue Viyran friend must find out if they are the solution or the cause.
Deep beneath the Earth, something is stirring. Fragments of an alien design are coalescing. Part 1: Embankment Station - A bumpy arrival, journalism, politics and a security crisis.Part 2: Ruffling - Hiding in a bank, on the run, trapped underground.Part 3: Seed of Chaos - Tube train trouble, the chaos begins, the Prime Minister arrives.
Part 4: The Destructive Quality of Life -Marooned on an alien world, a 'concentration camp' in Slough, messaging through space and time.This release also includes a bonus hour of content featuring interviews with cast and crew. Charlotte Pollard began life in Doctor Who - Storm Warning, Big Finish's very first Doctor Who story with Paul McGann as the Eighth Doctor.
India Fisher, who plays Charlotte Pollard for Big Finish, is also known for her charismatic voice-over work on BBC's Masterchef.
Written and directed by Nicholas Briggs, executive producer of Big Finish, and voice of the Daleks for BBC's Doctor Who.
CAST: India Fisher (Charlotte Pollard). James Joyce (Robert Buchan), Dan Starkey (Rogue Viyran), Deirdre Mullins (Naomi Davies), Kieran Hodgson (Woking), Ashley Kumar (Rab), Rachel Atkins (Minister), Pippa Haywood (Prime Minister), Colin McFarlane (The Identical Men), Karen Henson (Madeline), Gary Turner (Captain Warwick), Ben Crowe (Sergeant Hunter), Glen McCready (David Shillingford/Gelrasian/Guard/Proto-Viyran/Donald Predko/Soldiers).
This release also includes a bonus hour of content featuring interviews with cast and crew.
Information
Format: CD-Audio
Publisher: Big Finish Productions Ltd
Publication Date: 30/04/2017
Category: Science fiction
ISBN: 9781781785652