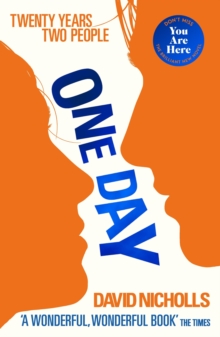 Description
'ONE DAY is destined to be a modern classic' - Daily MirrorTwenty years, two people, ONE DAY.
The multi-million copy bestseller that captures the experiences of a generation.'I can imagine you at forty,' she said, a hint of malice in her voice. 'I can picture it right now.'He smiled without opening his eyes. 'Go on then.'15th July 1988. Emma and Dexter meet for the first time on the night of their graduation.
Tomorrow they must go their separate ways. So where will they be on this one day next year? And the year after that? And every year that follows?
Information
Format: Paperback
Pages: 448 pages
Publisher: Hodder & Stoughton General Division
Publication Date: 01/01/2010
ISBN: 9780340896983
Other Formats
EPUB from £5.99
Paperback from £6.10
CD-Audio from £11.45
Mixed media product from £12.03
Free Home Delivery
on all orders
Pick up orders
from local bookshops
Reviews
Showing 1 - 5 of 28 reviews.
Previous | Next
Review by tashtashtash
16/06/2015
I'm not sure what all the fuss is about with this book, although the idea behind the book is a good one. I couldn't connect with the characters at all, and their dialogue was just embarrassing. The way they talked, thought and just their whole characters reminded me of an embarrassing parent trying to impress their teenager by pretending to know what words and phrases are 'in'. I know it is set over a long period of time so therefore fashions and slang change, but honestly, some of the things the author came out with for them just made me cringe.
Review by LyzzyBee
16/06/2015
Borrowed from JenI read this because it's the book for our next Book Group meeting at Urban Coffee Company. Having been lukewarm about his "Starter for Ten" I don't think I'd have read this if it hadn't been for Book Group - and if I'd started it, I almost certainly wouldn't have finished it!The main conceit of the book, that we revisit a couple who we first meet in bed the morning after their University graduation ceremony on the same day ever year for about the next twenty years, is an interesting one, but I felt that the whole book was like an exercise subsumed to this clever idea. As almost exact contemporaries of mine, moving from the provinces to London to try to pursue their careers, well, it isn't emotionally attaching enough to have a comforting ring of familiarity, and the careers they go in to are stereotyped and their behaviour a bit boring (media - alcohol - drugs - yawn!). Emma does have a University and post-University life/political outlook similar to mine, but the author seems to patronise her and dislike the male character, Dexter. Some of their doings seem very contrived and while there are clever moments (important scenes happening just off-camera due to the limitation to one day) and funny moments (a few) but it didn't speak to me in the way it seemed to to lots of reviewers on Amazon etc.The climax of the book was a heart-stopping moment but also upset me greatly, although it probably wouldn't upset most people so much, as it was more personal due to a coinciding of vintage, shall we say (without giving the game away). I had also partly predicted and, indeed, wanted it, which will be a bit shocking to anyone who *has* read the book.I will be interested to hear what the other book group members make of it...
Review by karensaville
16/06/2015
I really enjoyed this book. It frustrated me and I didn't like Dexter very much but I was really interested to know what happened to both of the characters and really wanted them to get together. At the end I cried real tears, I'm so glad I was home alone and not sitting on a commuter train or something similar. Everyone in the book club loved it except one lady who hated it and couldn't get past the first few chapters.
Review by lizchris
16/06/2015
A great beach book. It does feel as though it's almost a screenplay and lots of predictable stuff goes on. But overall it is a very enjoyable and undemanding read. If you were born in the 1960s, you will see yourself somewhere in this book - and probably shudder with recognition.
Review by LadyHazy
16/06/2015
Read this If you enjoyed The Time Traveller's Wife; it also breaks the traditional formula of storytelling, and has a great sense of humour. You spend 20 years in the day of a life of two incredibly realistic characters who feel like they're your friends by the end of the book.It's already being made into a film with Jim Sturgess as Dexter (absolutely perfect if you ask me) and Anne Hathaway as Emma - though my Emma was very much a brunette Katherine Heigl.Highly recommended.