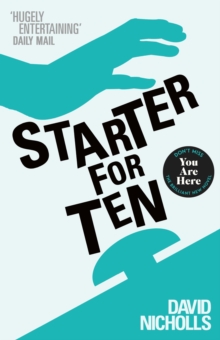 Starter for Ten
Paperback
Description
The debut bestseller from the author of the phenomenally successfully ONE DAY and Man Booker longlisted US.
STARTER FOR TEN is a comedy about love, class, growing-up and the all-important difference between knowledge and wisdom.
It's 1985 and Brian Jackson has arrived at university with a burning ambition - to make it onto TV's foremost general knowledge quiz.
But no sooner has he embarked on 'The Challenge' than he finds himself falling hopelessly in love with his teammate, the beautiful and charismatic would-be actress, Alice Harbinson.When Alice fails to fall for his slightly over-eager charms, Brian comes up with a foolproof plan to capture her heart once and for all.
He's going to win the game, at any cost, because - after all - everyone knows that what a woman really wants from a man is a comprehensive grasp of general knowledge ...STARTER FOR TEN is a comedy about love, class, growing-up and the all-important difference between knowledge and wisdom.
Are you up to the challenge of the funniest novel in years?
Information
Format: Paperback
Pages: 368 pages, n/a
Publisher: Hodder & Stoughton General Division
Publication Date: 19/07/2004
ISBN: 9780340734872
Other Formats
EPUB from £5.99
CD-Audio from £12.65
Free Home Delivery
on all orders
Pick up orders
from local bookshops
Reviews
Showing 1 - 5 of 5 reviews.
Review by sharonlflynn
16/06/2015
This is the story of Brian, a young man from a working class background in 80s Britain and his first year at University. During this time he escapes his dysfunctional home, falls in love, joins the University Challenge team, and makes a complete eejit of himself.The story itself isn't anything ground-breaking. In fact, it's very predictable. But what is most enjoyable is that the author has managed to write a novel that completely evokes the mood of the 80s. Brian starts University in 1985, and I started in 1986. This novel describes exactly what it was like at the time.For this reason, and because I can empathise in particular with the character of Rebecca, I found this a very enjoyable read.
Review by edwardsgt
16/06/2015
As someone who went to University in the 70s, from a similar background to Brian Jackson, the book's main character, I felt for him as he tried to make his way at University and make friends. The books is at turns hilarious and cringeworthy and accurately, in my experience, portrays life at an English university in the 70s/80s. The title of course refers to University Challenge, the still-running TV quiz for university students in which Brian aspires to compete and ultimately does, but with a twist. Highly recommended, especially for those who attended, or know people who attended, a British university in the 70s and 80s.
Review by BoundTogetherForGood
16/06/2015
I read this book because I loved Nicholls' book "One Day". This book did not meet my high expectations. Originally I assumed the book was about a dinner party or a group of friends. I read "starter" to mean a starter as in appetizers. An appetizer for ten. Sounded interesting.The reality is that the book title was meant to suggest a popular British past-time, quizzes. Okay, so that, too, could have provided a great title and theme for a book. Quizzes are popular at the university level and are watched by many people as they are televized on the BBC as "University Challenge". Local pubs also host quiz nights. My husband and I attended one such night at the Christmas dinner hosted by the American's women's group of which I was a part while we lived in Surrey, England.Most of the chapters begin with a starter question. The chapter that follows then generally has something to do with that topic.The general theme of the book is cheating. The main character, Brian Jackson, embarks upon his first year at university. We get to watch as Brian adapts to all the new things that university life brings. Brian's dad died when he was very young. Brian's mom hasn't dated since. When Brian returns home for the "hols" (holiday break) he learns that his mom is in a relationship with a family friend. Brian has to relearn how to relate to his friends back home since he is now a college-man and they aren't. Brian also attempts a couple of relationships with females; but Brian really isn't mature enough for such situations.Brian's dad's favourite things to do was to watch University Challenge on the BBC. It has secretly been Brian's wish to make the UC team when he goes away to university. Brian makes the team. Making the team, however, isn't enough. But will Brian prove to be mature enough for it? That is what you will find out if you read this book.I won't spoil the ending but I will state that I did not enjoy the direction the author took in ending the book. I was really disappointed when I compared it to how greatly I loved his title "One Day".
Review by readingwithtea
16/06/2015
"A little strange and unsettling, like seeing Stalin on a skateboard"Brian Jackson embarks on the great British coming-of-age adventure that is going to university. Desperate to honour his blue-collar father's memory by making the University Challenge team, he is equipped with a grand array of general knowledge, but probably not sufficient social knowledge to cope with the beautiful blonde from Suffolk and the angry Glaswegian socialist, never mind with how his mates back home will treat him.This bittersweet tale encompasses most of Brian's first year at university, and has been made into a movie starring the lovely James McAvoy quite recently (I do wish that man would make a film with his proper Scottish accent).My reaction to this book is very much in two parts - a reaction to the humour, and to the rest of it. I loved the humour - it's that classic dry, awkward, self-deprecating, terribly British humour:"The University Experience. I like the word experience. It makes it sound like a ride at Alton Towers""a sort of foppish, cavalier look that makes it almost look as if he's mislaid his rapier""my digs look as if they've been dug"; "the room has the appeal and ambience of a murder scene"The plot is pretty much exactly as in the film - Essex boy goes to university in undisclosed town (assumed to be Bath/Bristol/Reading), has first-year-type romantic misadventures, regularly has no money, gets on the University Challenge team, and Screws Up in rather dramatic fashion. I don't have much to say about the plot because I saw the film so recently, but I kept turning the pages even though I knew what was going to happen (which must be a sign of good writing!), and Nicholls does nail the British University Experience:"I suppose that posh-boys-in-drag must be one of the inevitable miseries of living in a university town."Sadly, yes, it is. An inevitable misery even just for other students."I want to hold passionate but reasoned debates around wooden kitchen tables, saying things like "define your terms" and "your premise is patently specious" and then suddenly discover that the sun's come up and we've been talking all night"I've done that - on New Year's Eve just gone (so admittedly, after finishing uni) with uni friends and a wooden dining table; and several times at uni, usually in kitchens with no tables and dear friends who shall remain nameless gesticulating wildly with cooking implements while describing complex mathematical concepts and/or arguments for and against the existence of a deity.Beside the point.The characters are fun - I think Brian is a bit complex, but maybe I'm just not good at being inside the head of a 19-year-old boy. Alice and Rebecca are both well-constructed girls, and Patrick, Spencer and the various other cast members are all credible, angsty students/teenagers.Clever writing and lots of fun.
Review by michaeldwebb
16/06/2015
Blinking heck! What an ending. This is worth reading just for that.