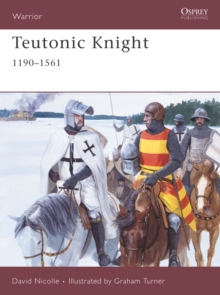 Teutonic Knight : 12th-16th Centuries
Paperback
Part of the Warrior series
Description
Osprey's study of Teutonic Knights from 1190 to 1561.
The Military Order of Teutonic Knights was one of the three most famous Crusading Orders; the others being the Templars and the Hospitallers.
Like these two, the Teutonic Knights initially focused upon the preservation of the Crusader States in the Middle East.
Wielding their swords in the name of their faith, the crusading knights set out to reclaim Jerusalem.
Unlike the Templars they survived the crises of identity and purpose which followed the loss of the last Crusader mainland enclaves in the late thirteenth century and, like the Hospitallers, they managed to create a new purpose - and a new field of combat - for themselves.
Whereas the Hospitallers focused their energies in the eastern Mediterranean battling against Muslim armies, the Teutonic Knights shifted their efforts to the Baltic, to the so-called Northern Crusades against pagan Prussians and Lithuanians and, to a lesser extent, against Orthodox Christian Russia.
As a result the Order of Teutonic Knights became a significant power, not only in the Baltic but in north-central Europe as a whole.
Paradoxically, however, it was their fellow Catholic Christian Polish neighbours who became their most dangerous foes, breaking the Order's power in the mid-fifteenth century.
The Teutonic Knights lingered on in what are now Estonia and Latvia for another century, but this was little more than a feeble afterglow.
This title will examine this fascinating military and religious order in detail, revealing the colourful history of the crusades within Europe itself which inexorably changed the future of the continent.
Information
Format: Paperback
Pages: 64 pages, Illustrations (some col.)
Publisher: Bloomsbury Publishing PLC
Publication Date: 06/11/2007
Category: European history
ISBN: 9781846030758
Free Home Delivery
on all orders
Pick up orders
from local bookshops