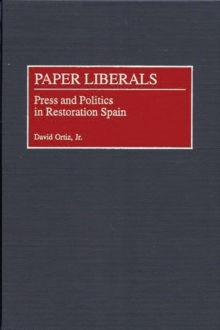 Paper Liberals : Press and Politics in Restoration Spain
Hardback
Description
The death of General Francisco Franco in November of 1975 ended thirty-six years of fascist-style dictatorship in Spain.
The subsequent transition to liberal parliamentary government was remarkably smooth, particularly when compared to the recent difficulties experienced by other states, such as the former Soviet Republics and Eastern Europe. Ortiz traces Spain's success back to the development of a liberal tradition and a public sphere in the last decades of the 19th century during the Restoration period.
He uses this era as a test case to demonstrate that liberal practices can develop even within a political situation where state institutions and the social infrastructure do not necessarily support them. Paper Liberals dispels the notion that Western Europe ends at the Pyrenees and argues instead that, while on the periphery, Spain should not be excluded from the mainstream of European history.
Clarifying a period in contemporary Spanish history that has been largely misunderstood, this study underscores the importance of the Spanish example as a comparative model to the countries customarily thought of as the European center (Britain, France, and Germany). Ortiz examines the formation and expansion of liberal political culture during the Regency of Maria Christina from 1885 to 1902, and he details the pivotal role of the Spanish press, which dominated the public sphere of Regency Spain, as the vehicle for this remarkable transformation.
Information
Format: Hardback
Pages: 152 pages
Publisher: ABC-CLIO
Publication Date: 30/09/2000
Category: European history
ISBN: 9780313312168
Free Home Delivery
on all orders
Pick up orders
from local bookshops