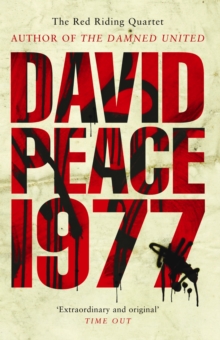 Red Riding Nineteen Seventy Seven
Paperback
Description
If you thought fiction couldn't get darker than David Peace's extraordinary debut, Nineteen Seventy Four, then think again.
Nineteen Seventy Seven, the second instalment of the 'Red Riding Quartet', is one long nightmare.
Its heroes - the half decent copper Bob Fraser and the burnt-out hack Jack Whitehead - would be considered villains in most people's books.
Fraser and Whitehead have one thing in common though, they're both desperate men dangerously in love with Chapeltown prostitutes. And as the summer moves remorselessly towards the bonfires of Jubilee Night, the killings accelerate and it seems as if Fraser and Whitehead are the only men who suspect or care that there may be more than one killer at large.
Out of the horror of true crime, David Peace has fashioned a work of terrible beauty.
Like James Ellroy before him, David Peace tells us the true and fearsome secret history of our times.
Information
Format: Paperback
Pages: 352 pages
Publisher: Profile Books Ltd
Publication Date: 04/09/2008
Category: Crime & mystery
ISBN: 9781846687068
Free Home Delivery
on all orders
Pick up orders
from local bookshops
Reviews
Showing 1 - 3 of 3 reviews.
Review by PossMan
16/06/2015
Red Riding quartet (David Peace)1974197719801983A recent reviewer of Peace's book "Occupied City" described it as "unreadable". I bought it and before I started was somewhat encouraged by a much more positive review by a Jake Kerridge. But even that ended with ".......You will occasionally feel glad as you read that nobody else writes like Peace, but you will put the book down amazed and delighted that at least one person does." Well that proved to be the case as far as the comma.I bought the Red Riding quartet for a song in the Borders sale the last day before it closed for good. The basic subject seemed much more approachable — after all dammit they'd just been made into a TV mini-series. After struggling through I can report that they are also unreadable which is probably why they were still in the sale on the last day, most Borders customers being more savvy about choosing reading material than me. They are set mostly in Yorkshire but Manchester and Preston also appear. Some of the characters are common to all the books but corrupt coppers take the leading parts. There are references to real events such as the hunt for the "Yorkshire Ripper" (Peter Sutcliffe in real life) and perhaps people better informed about the place and the times could pick out more. But it is a work of fiction and even it was written in a more readable style it would be a mistake to try to make the links. Don't buy or even borrow.
Review by Fluffyblue
16/06/2015
The story within this book was narrated by Jack Whitehead, a more seasoned reporter working at the same paper as the reporter in the first book of the series. It is interspersed with narration by one of the police officers who was briefly introduced in the first book, Bob Fraser. The ripper murders are in full flow, with 1977 being the most prolific year for his killings. None of the characters were particularly likeable, but that didn't matter. The book was gripping and relentless in its descriptions of the violence and murders of 1977.
Review by RidgewayGirl
16/06/2015
Jack Whitehead is a seasoned journalist haunted by the spectre of a murdered woman. Bob Fraser is a cop married to the daughter of a legendary officer, with a bright future and a clean reputation. He is also involved in an obsessive relationship with a prostitute which may not be entirely consensual. In the flawed and dirty world of the villages and towns near Leeds, in Yorkshire, in <i>Nineteen Seventy-Seven</i>, they are the good guys. A violent sexual murderer, called the Yorkshire Ripper, is hunting down the prostitutes of the region, but there are questions about whether all the dead women were killed by the Ripper and about possible police involvement. The second installment in David Peace's <i>Red Riding Quartet</i> is as violent and relentless as the first. This is Noir in its very darkest and bleakest incarnation. The Yorkshire of Peace's imagination is devoid of hope or even basic human decency, where Blacks and Gypsies are the targets of police brutality as a matter of course and where women are victimized with callous disregard. Whitehead and Fraser have reasons for pursuing their search for the killer, but they have their own demons to fight, which might just prove more formidable than the corrupt and venal system they operate within.One needs a strong stomach to read this series, but they are compelling; the violence is graphic but it never feels gratuitous. After reading the first book in the series, <i>Nineteen Seventy-Four</i>, I rushed right out to get a copy of [Nineteen Seventy-Seven], which I then eyed distrustfully for several months before reading. I'll be doing the same with <i>Nineteen Eighty</i>.
Also in the The Red Riding Quartet series | View all