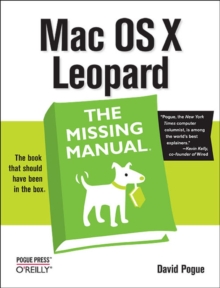 Mac OS X Leopard the Missing Manual
Paperback
Description
With Leopard, Apple has unleashed the greatest version of Mac OS X yet, and David Pogue is back with another meticulous Missing Manual to cover the operating system with a wealth of detail.
The new Mac OS X 10.5, better known as Leopard, is faster than its predecessors, but nothing's too fast for Pogue and this Missing Manual.
It's just one of reasons this is the most popular computer book of all time. Mac OS X: The Missing Manual, Leopard Edition is the authoritative book for Mac users of all technical levels and experience.
If you're new to the Mac, this book gives you a crystal-clear, jargon-free introduction to the Dock, the Mac OS X folder structure, and the Mail application.
There are also mini-manuals on iLife applications such as iMovie, iDVD, and iPhoto, and a tutorial for Safari, Mac's web browser.
This Missing Manual is amusing and fun to read, but Pogue doesn't take his subject lightly.
Which new Leopard features work well and which do not?
What should you look for? What should you avoid?Mac OS X: The Missing Manual, Leopard Edition offers an objective and straightforward instruction for using: * Leopard's totally revamped Finder * Spaces to group your windows and organize your Mac tasks * Quick Look to view files before you open them * The Time Machine, Leopard's new backup feature * Spotlight to search for and find anything in your Mac * Front Row, a new way to enjoy music, photos, and videos * Enhanced Parental Controls that come with Leopard * Quick tips for setting up and configuring your Mac to make it your own There's something new on practically every page of this new edition, and David Pogue brings his celebrated wit and expertise to every one of them.
Mac's brought a new cat to town and Mac OS X: The Missing Manual, Leopard Edition is a great new way to tame it.
Information
Format: Paperback
Pages: 914 pages, black & white illustrations
Publisher: O'Reilly Media, Inc, USA
Publication Date: 01/12/2007
Category: Macintosh OS
ISBN: 9780596529529
Other Formats
Paperback from £18.75
EPUB from £19.19
PDF from £19.19
Free Home Delivery
on all orders
Pick up orders
from local bookshops
Reviews
Showing 1 - 4 of 4 reviews.
Review by manatree
16/06/2015
Love the Missing Manual series. While you may never read the entire book, chances are it will answer most every question you ever need answered.
Review by DWWilkin
16/06/2015
This is the kitchen sink of books, but our plumber has that smell good freshness about him that you really don't equate with plumbing. So that metaphor was a stretch it not for a series that prides itself on being "The Missing Manual."We want this series to cover everything that we don't get when we open our software, in this case the software and hardware that is so closely associated with it. There is so much detail that it is overwhelming and reading it in one sitting is not likely. That and the more than 800 pages of dense material and examples would make that difficult for many.It can be used as a textbook reference, and in the style of the wry humor throughout, it could also be used as a doorstop. That wry humor is one of the things that make this book standout. Without it, the book would be dry, not wry. 800 plus pages of college level text would probably drive you away from your bigger purchase, the computer, and this book is designed to help you to appreciate your Macintosh.It does that well and is worthwhile or every Mac owner. The one minor inadequacy is that along the way tricks are mentioned that aid you in your use of the operating system, but the indexing system is not as comprehensive as it could be, so days later when you go to find a shortcut or feature of the Mac OS, it is not quite so easy to find.
Review by bordercollie
16/06/2015
Am I the only person out there who enjoys reading computer manuals? Pogue's are the best: clear, simple, humorous…
Review by EllsbethB
27/08/2015
When I had to switch from Windows to Mac OS for work, a colleague suggested this series. This book was invaluable in learning how Macs work and getting comfortable and proficient with the new system. There are a lot of great tips on all kinds of topics. Now that I have to switch back, I'll be getting the Windows book.