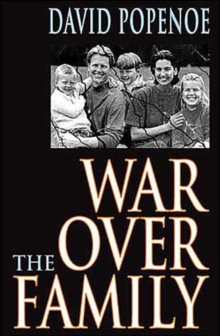 War Over the Family
Hardback
Description
One of the most surprising and controversial social debates of the past two decades has been about the meaning and importance of marriage and the family in contemporary American life.
Referred to by some as a culture "war over the family," the debate has pitted those concerned about the weakening of the traditional married-parent nuclear family, especially in its impact on children, against those arguing that nothing has gone wrong with families - that they are merely "diversifying." David Popenoe has been one of the most influential figures in laying out for a wide audience the importance of "family decline," and what it means for our children, our society, and our future.
Two fundamental issues have been brought into national consciousness by this controversy.
One is the very survival of marriage as the basic procreative model of a civilized society, including the importance of fatherhood and parental stability.
Is the age-old institution of marriage to become a vestigial remnant, relegated to a small minority of traditionalists, rather than the bedrock of society as we have known it since the dawn of history?The second issue is the centrality given by our nation to the interests of children.
Have we reached a time in history when the needs and desires of adults increasingly override and conflict with the hard-won battles for optimal child well being?
Drawing on his most seminal thinking, this book presents Popenoe's observations and interpretations of the great family debate.
The book includes his widely cited, now classic article "American Family Decline, 1960-1990: A Review and Appraisal" as well as his path-breaking "The Evolution of Marriage and the Problem of Stepfamilies" and the influential "Can the Nuclear Family be Revived?" The writings in this book share a broad cultural, historical, and interdisciplinary perspective.
They are accessible not only to the family scholar and the family professional but to the general reader who wishes to know more about one of the truly important social issues of our time.
Other Formats
EPUB from £29.99
PDF from £29.99
Hardback from £101.85
Paperback / softback from £36.45
Free Home Delivery
on all orders
Pick up orders
from local bookshops