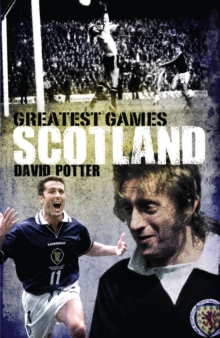 Scotland Greatest Games : Scotland's Fifty Finest Matches
Paperback / softback
Description
From the hundreds of matches ever played by Scotland, stretching from the first ever international football match in 1872 to the 21st century, here are 50 of the national side's most glorious, epochal and thrilling games of all!
Expertly presented in evocative historical context, and described incident-by-incident in atmospheric detail, Scotland Greatest Games offers a terrace ticket back in time, taking in World Cup classics, Home International triumphs, European adventures and giantkilling feats.
An irresistible cast list of Scottish football legends - Kenny Dalglish, Billy Bremner and Willie Woodburn, Gordon Smith, Denis Law and Dave Mackay - springs to life in an unbeatable selection of famous victories over England, Wales, France, Germany, Italy and Holland - not to forget the day the Tartan Army invaded Wembley and broke the crossbar!
In all, a journey through the highlights of Scotland's international history which is guaranteed to make any fan's heart swell with pride.