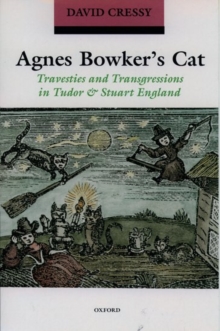 Agnes Bowker's Cat : Travesties and Transgressions in Tudor and Stuart England
Paperback
Description
"What a world is this? It is marvelous, it is monstrous! I hear say there is a young woman, born in the town of Harborough, one Bowker, a butcher's daughter, which of late, God wot, is bought to bed of a cat, or have delivered a cat, or, if you will, is the mother of a cat!
Oh God!" William Bullein - Dialogue Against the Fever Pestilence (1578) David Cressy examines how the orderly, Protestant, and hierarchical society of post-Reformation England coped with the cultural challenges posed by beliefs and events outside the social norm.
Drawing on local texts and narratives he reveals how a series of troubling and unorthodox happenings-bestiality and monstrous births, seduction and abortion, nakedness and cross-dressing, excommunication and irregular burial, iconoclasm and vandalism-disturbed the margins, cut across the grain, and set the authorities on edge.
Information
Format: Paperback
Pages: 364 pages, black and white illustrations
Publisher: Oxford University Press
Publication Date: 15/02/2001
Category: British & Irish history
ISBN: 9780192825308
Free Home Delivery
on all orders
Pick up orders
from local bookshops
Reviews
Showing 1 - 1 of 1 reviews.
Review by caittilynn
16/06/2015
This was a very well written social history about how the manifestations of abnormal behavior and suspicion showed the anxiety and instability within the time period. The book examines locally published pamphlets, court histories and church registries to explore how outlying events say something about what the common people were doing and thinking, especially as this is a period without a huge amount of written records. This is a period of huge religious and political unrest. There were questions about the continuation of the monarch with the Tudor line coming to end, there were issues with having female monarchs for the first time, there were struggles against changing social mores with the loss of the strict Catholic church while the Anglican/Puritan infrastructure was still developing and then of course you have the chaos of the English Civil War. While it is easy to dismiss these cases as tabloid speculation, I think the author does a good point of showing how a trail of cases like these can be connected to the instability. He never uses just one case, there is always a string. immigration and as those fears develop there is a rise in the number of these