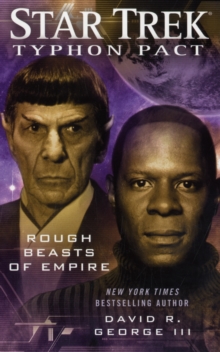 Typhon Pact #3: Rough Beasts of Empire
Paperback
Part of the Star Trek series
Description
Still on Romulus in pursuit of his goal of reunifying the Vulcans and Romulans, Spock finds himself in the middle of a massive power struggle.
In the wake of the assassination of the Praetor and the Senate, the Romulans have cleaved in two.
While Empress Donatra has led her nascent Imperial Romulan State to establish relations with the Federation, Praetor Tal'aura has guided the original Romulan Star Empire toward joining the newly formed Typhon Pact.
But numerous factions within the two Romulan nations vie for power and undivided leadership, and Machiavellian plots unfold as forces within and without the empires conduct high-stakes political maneuvers.
Meanwhile, four years after Benjamin Sisko returned from the Celestial Temple, circumstances have changed, his hopes for a peaceful life on Bajor with his wife and daughter beginning to slip away.
After temporarily rejoining Starfleet for an all-hands-on-deck battle against the Borg, he must consider an offer to have him return for a longer stint.
Beset by troubling events, he seeks spiritual guidance, facing demons new and old, including difficult memories from his time in the last Federation-Tzenkethi war.
Information
Format: Paperback
Pages: 400 pages
Publisher: Simon & Schuster
Publication Date: 28/12/2010
Category: Science fiction
ISBN: 9781439160817
Free Home Delivery
on all orders
Pick up orders
from local bookshops
Reviews
Showing 1 - 1 of 1 reviews.
Review by TheMadTurtle
16/06/2015
With this third book in, I'm ready to say it - the Typhon Pact series is just bad. The first one was fine on it's own and the second one was fine on it's own. This third one, though is an incredibly long-winded way of bringing about political change in the Romulan Empire and putting Sisko back on a starship. Really, I just summed up the book for you in that one last sentence. You might ask "what do Romulan politics and Sisko have in common"? Good question. The answer, unfortunately, is nothing. But then, what do these first three chapters in the Typhon Pact series have to do with one another? Also nothing. I'll finish the series, and I really, really hope that the fourth and final book in the series somehow ties them all together. Still, after such an outstanding crossover series like the Destiny series was, the Typhon Pact series so far just doesn't even compare.