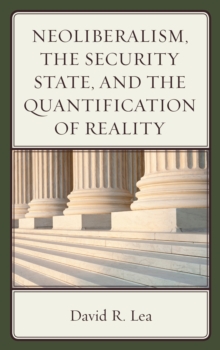 Neoliberalism, the Security State, and the Quantification of Reality
Hardback
Description
As the security state grows in power and dominance, commercial and financial interests increasingly penetrate our social existence. Neoliberalism, the Security State, and the Quantification of Reality addresses the relationship between these two trends in its discussion of neoliberalism, financialization, and managerialism, with a particular focus on the decline of professionalism, the restructuring of tertiary education, and the university's abandonment of the humanities.
Additionally, David Lea links these developments with the failings of democratic institutions, the growth of the disciplinary society, and the emergence of the security state, which relentlessly governs by extraordinary fiat dividing, disempowering and excluding. Lea identifies one such linkage inthe common form of rationality, which underlies contemporary approaches to reality.
Others have noted that one of the most notable political developments of the last thirty years or so has been increasing public and governmental demand for the quantification of social phenomena.
Moreover, A.W. Crosby has attributed Europe's unprecedented imperial success, which began in early European Modernity, to a paradigmatic shift from a qualitative world view grounded in Platonic and Neo-Platonic idealism to a more quantitative world view. Nevertheless, this quantitative approach towards the natural and social worlds alienates humans from other species and even from ourselves and fails to represent life as we actually experience it.
While a quantitative world view may have facilitated imperial success and the interlocking exercise of power and authority by the state and the economically empowered, this instrumental form of thinking rationales, strategies and facilitates policies that restrict and vitiate individual autonomy to create a seamless controlled conformity.
This form of thinking that relies on the quantification of natural and social phenomena creates a value free equivalency, which at the same time invidiously divides society into the wealthy and the impoverished, the advantaged and the exploited, the politically included and the excluded.
Information
Format: Hardback
Pages: 252 pages
Publisher: Lexington Books
Publication Date: 14/12/2016
Category: Social & political philosophy
ISBN: 9781498520072
Free Home Delivery
on all orders
Pick up orders
from local bookshops
Also by David R. Lea