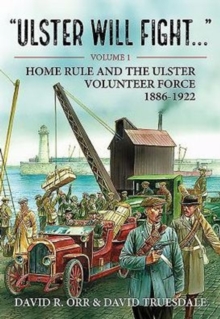 Ulster Will Fight - Volume 1 : Volume 1 : Home Rule and the Ulster Volunteer Force 1886-1922
Hardback
Description
The various attempts at Home Rule for Ireland ultimately culminated in the Third Home Rule Bill which directly contributed to the creation of the Ulster Volunteer Force.
The UVF spanned not just the geographic rural and urban Protestant Ulster from the Atlantic coast of Donegal to the shipyards of east Belfast but also the diverse political ideals of individuals.
By the outbreak of the Great War it had become an organisation of armed volunteers, the first to use motorcycle despatch riders and motor transport on a large scale and the first to use armoured lorries in street patrols.
It was also one of the first in the twentieth century to recognise the varied role for women in warfare against a backdrop of a rise in women's suffrage in the United Kingdom and the United States of America.
The importance, role and significance of the existence of the UVF are well summed up in Sir Winston Churchill's book, `Great Contemporaries', that "if Ulster had confined herself simply to constitutional agitation, it is extremely improbable that she would have escaped forcible inclusion in a Dublin Parliament." This book tells both the story of the Home Rule period and the Ulster Volunteer Force formed in response to the Home Rule crises.
An important period in Irish politics and history this book draws on a number of first-hand accounts, contemporary newspaper reports, UVF papers and records from the Somme Museum.
It is illustrated by a number of images never before published.
Information
Format: Hardback
Pages: 424 pages, c 350 b/w photographs & illustrations
Publisher: Helion & Company
Publication Date: 15/07/2016
Category: First World War
ISBN: 9781910777626
Also by David R. Orr