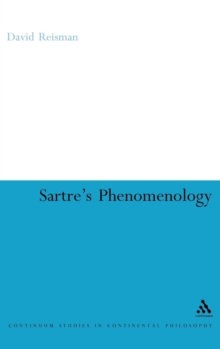 Sartre's Phenomenology
Hardback
Description
In Being and Nothingness Sartre picks up diverging threads in the phenomenological tradition, weaves them together with ideas from Gestalt and behaviourist psychology, and asks: What is consciousness?
What is its relationship to the body, to the external world, and to other minds?
Sartre believes that the mind and its states are by-products of introspection, created in the act that purports to discover them.
How does this happen? And how are we able to perceive ourselves as persons - physical objects with mental states? Sartre's Phenomenology reconstructs Sartre's answers to these crucial questions.
On Sartre's view, consciousness originally apprehends itself in terms of what it is consciousness of, that is, as an activity of apprehending the world.
David Reisman traces the path from this minimal form of self-consciousness to the perception of oneself as a full-blown person.
Similar considerations apply to the perception of others.
Reisman describes Sartre's account of the transition from one's original apprehension of another consciousness to the perception of other persons. An understanding of the various levels of self-apprehension and of the apprehension of others allows Reisman to penetrate the key ideas in Being and Nothingness, and to compare Sartre to analytic philosophers on fundamental questions in the philosophy of mind.
Information
Format: Hardback
Pages: 160 pages, black & white illustrations
Publisher: Bloomsbury Publishing PLC
Publication Date: 03/05/2007
Category: Phenomenology & Existentialism
ISBN: 9780826487254
Also in the Continuum Studies in Continental Philosophy series | View all