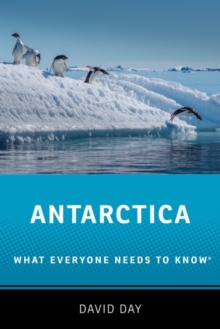 Antarctica : What Everyone Needs to Know (R)
Paperback / softback
Description
Part of the What Everyone Needs to Know (R) series, David Day's book on Antarctica examines the most forbidding and formidably inaccessible continent on Earth.
Antarctica was first discovered by European explorers in 1820, and for over a century following this, countries competed for the frozen land's vast marine resources-namely, the skins and oil of seals and whales.
Soon the entire territory played host to competing claims by rival nations.
TheAntarctic Treaty of 1959 was meant to end this contention, but countries have found other means of extending control over the land, with scientific bases establishing at least symbolic claims.
Exploration and drilling by the United States, Great Britain, Russia, Japan, and others has led to discoveries about the world'sclimate in centuries past-and in the process intimations of its alarming future. Delving into the history of the continent, Antarctic wildlife, arguments over governance, underwater mountain rangers, and the continent's use in predicting coming global change, Day's work sheds new light on a territory that, despite being the coldest, driest, and windiest continent in the world, will continue to be the object of intense speculation and competition.
Information
Format: Paperback / softback
Pages: 176 pages
Publisher: Oxford University Press Inc
Publication Date: 15/04/2019
Category: History of other lands
ISBN: 9780190641313
Free Home Delivery
on all orders
Pick up orders
from local bookshops