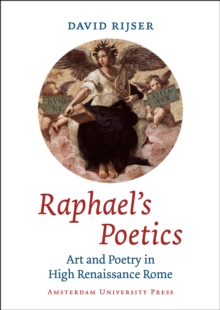 Raphael's Poetics : Art and Poetry in High Renaissance Rome
Paperback / softback
Description
Raphael's Poetics applies strategies of interpretation implicit in antique poetry to the visual art of the Renaissance, concentrating on Raphael's Roman works and their cultural context.
Until recently, scholarly discussion was dominated by the application of Renaissance literary theory to visual arts, obscuring the fact that Renaissance humanists who contributed to literary theory were, in the first instance and almost without exception, poets rather than theorists.
To counter the tendency towards theory, the hermeneutic rules implicit in their poetry and thus the poetry itself is brought to the fore by this study as a hermeneutical tool.
By focusing on the interaction between the work of art and its public, Rijser offers innovative interpretations of canonical works and important insights into the cultural history of the early modern period.
Reconstructing a visual grammar and defining the context in which Raphael's art functioned, this study illuminates contemporary significances that have since been lost.
Information
Format: Paperback / softback
Pages: 520 pages, 40 colour illustrations
Publisher: Amsterdam University Press
Publication Date: 26/01/2012
Category: Renaissance art
ISBN: 9789089643421