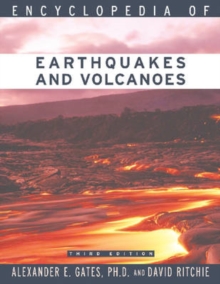 Encyclopedia of Earthquakes and Volcanoes
Paperback / softback
Description
Encyclopedia of Earthquakes and Volcanoes, Third Edition brings the excitement of an ever-changing field of science to the fore-front.
With the increase in natural disasters in recent years, the burgeoning world population is clearly expanding faster than our disaster reduction technology.
This new edition provides a single source on historical earthquakes and volcanic eruptions from throughout the world.
Updated with the most current information, this illustrated resource includes not only new geologic events, but also as many examples of historical earthquakes as possible for contrast or comparison.
Coverage in the Middle East has been significantly expanded to include recent natural disasters, as well as events such as landslides and avalanches.
Also, many tables were added to supplement the content and put the recent disasters into historical context.
Information
Format: Paperback / softback
Pages: 368 pages, 130 black-&-white photographs & 60 line illustrations, maps & diagrams, index, bibliograp
Publisher: Facts On File Inc
Publication Date: 15/05/2007
Category: Reference works
ISBN: 9780816071203