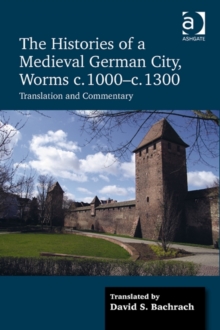 The Histories of a Medieval German City, Worms c. 1000-c. 1300 : Translation and Commentary
Hardback
Description
Germany was the most powerful kingdom in the medieval West from the mid-tenth to the mid-thirteenth century.
However, its history remains largely unknown outside of the German-speaking regions of modern Europe.
Until recently, almost all of the sources for medieval Germany were available only in the original Latin or in German translations, while most scholarly investigation has been in German.
The limited English-language scholarship has focused on royal politics and the aristocracy.
Even today, English-speaking students will find very little about the lower social orders, or Germany's urban centers that came to play an increasingly important role in the social, economic, political, religious, and military life of the German kingdom after the turn of the millennium. The translation of the four texts in this volume is intended to help fill these lacunae.
They focus on the city of Worms in the period c.1000 to c.1300.
From them readers can follow developments in this city over a period of almost three centuries from the perspective of writers who lived there, gaining insights about the lives of both rich and poor, Christian and Jew.
No other city in Germany provides a similar opportunity for comparison of changes over time.
As important, Worms was an 'early adopter' of new political, economic, institutional, and military traditions, which would later become normative for cities throughout the German kingdom.
Worms was one of the first cities to develop as a center of episcopal power; it was also one of the first to develop an independent urban government, and was precocious in emerging as a de facto city-state in the mid-thirteenth century.
These political developments, with their concomitant social, economic, and military consequences, would define urban life throughout the German kingdom.
In sum, the history of Worms as told in the narrative sources in this volume can be understood as illuminating the broader urban history of the German kingdom at the heigh
Information
Format:Hardback
Pages:192 pages
Publisher:Taylor & Francis Ltd
Publication Date:20/08/2014
Category:
ISBN:9781472436412
Other Formats
EPUB from £27.75
PDF from £27.75