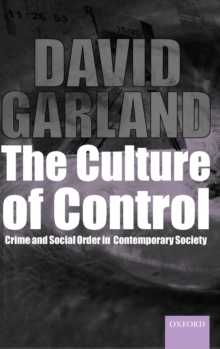 The Culture of Control : Crime and Social Order in Contemporary Society
Hardback
Description
The Culture of Control charts the dramatic changes in crime control and criminal justice that have occurred in Britain and America over the last 25 years.
It then explains these transformations by showing how the social organization of late modern society has prompted a series of political and cultural adaptations that alter how governments and citizens think and act in relation to crime.
The book presents an original and in-depth analysis of contemporary crime control, revealing its underlying logics and rationalities, and identifying the social relations and cultural sensibilities that have produced this new culture of control.
In developing a "history of the present" in the field of crime control, David Garland presents an intertwined history of the welfare state and the criminal justice state, a theory of social and penal change, and an account of how social order is constructed in late modern societies.
Drawing on extensive research in the UK and the USA, he shows in detail how the social, economic and cultural forces of the late 20th century have reshaped criminological thought, public policy, and the culturalmeaning of crime and criminals. The Culture of Control explains how our responses to crime and our sense of criminal justice came to be so dramatically reconfigured at the end of the 20th century.
The shifting policies of crime and punishment, welfare and security - and the changing class, race and gender relations that underpin them - are viewed as aspects of the problem of governing late modern society and creating social order in a rapidly changing social world.
Its theoretical scope, empirical range andinterpretative insight make this book an indispensable guide to one of the central issues of our time.
Information
Format: Hardback
Pages: 324 pages
Publisher: Oxford University Press
Publication Date: 29/03/2001
Category: Violence in society
ISBN: 9780198299370