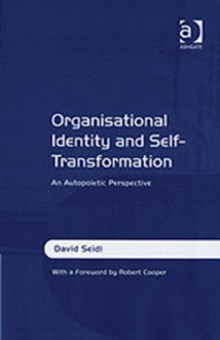 Organisational Identity and Self-Transformation : An Autopoietic Perspective
Hardback
Description
David Seidl brings together two important issues in organization and management studies in this volume: the concept and related theory of organizational identity, and autopoietic organization theory (as originally developed by Niklas Luhmann). The contribution of the book is twofold: it provides an introduction to autopoietic organization theory and it provides a new perspective on organizational identity and self-transformation.
Thus the book is relevant to both organization theorists interested in new approaches to organization and to researchers of organizational identity. The themes are reflected in the structure of the book.
Chapters one and two provide an introduction to Niklas Luhmann's organization theory.
Based on this, chapter three develops a new concept of organizational identity.
In chapters four and five a theory of organizational self-transformation (i.e. change of identity) is developed.
Other Formats
Paperback / softback from £36.25
EPUB from £35.98
PDF from £35.98